The true taste of vegetables that can only be tasted locally Expressing the splendor of producers in cooking.
[French restaurant] Nakata
Naka-dori・Koriyama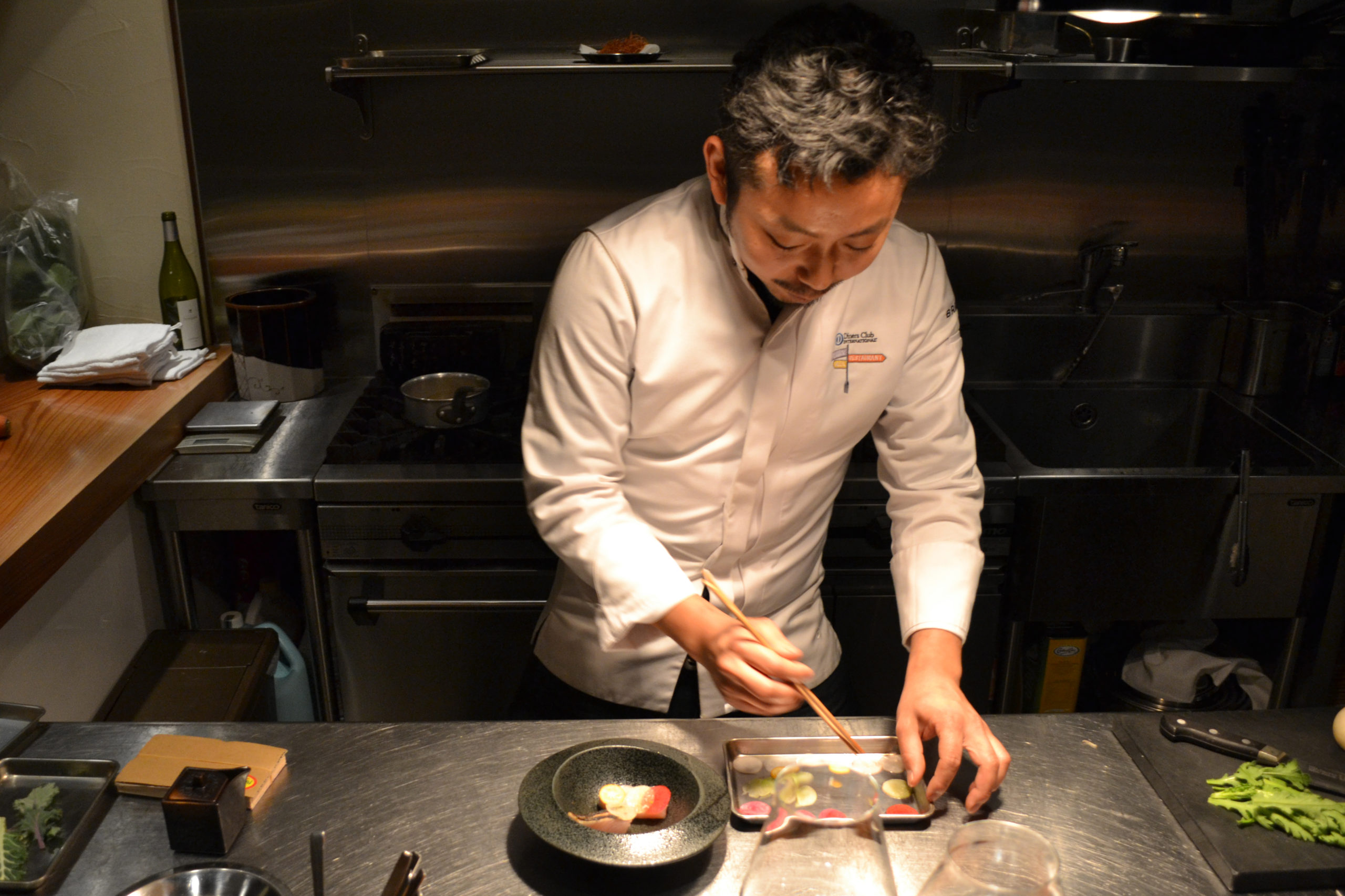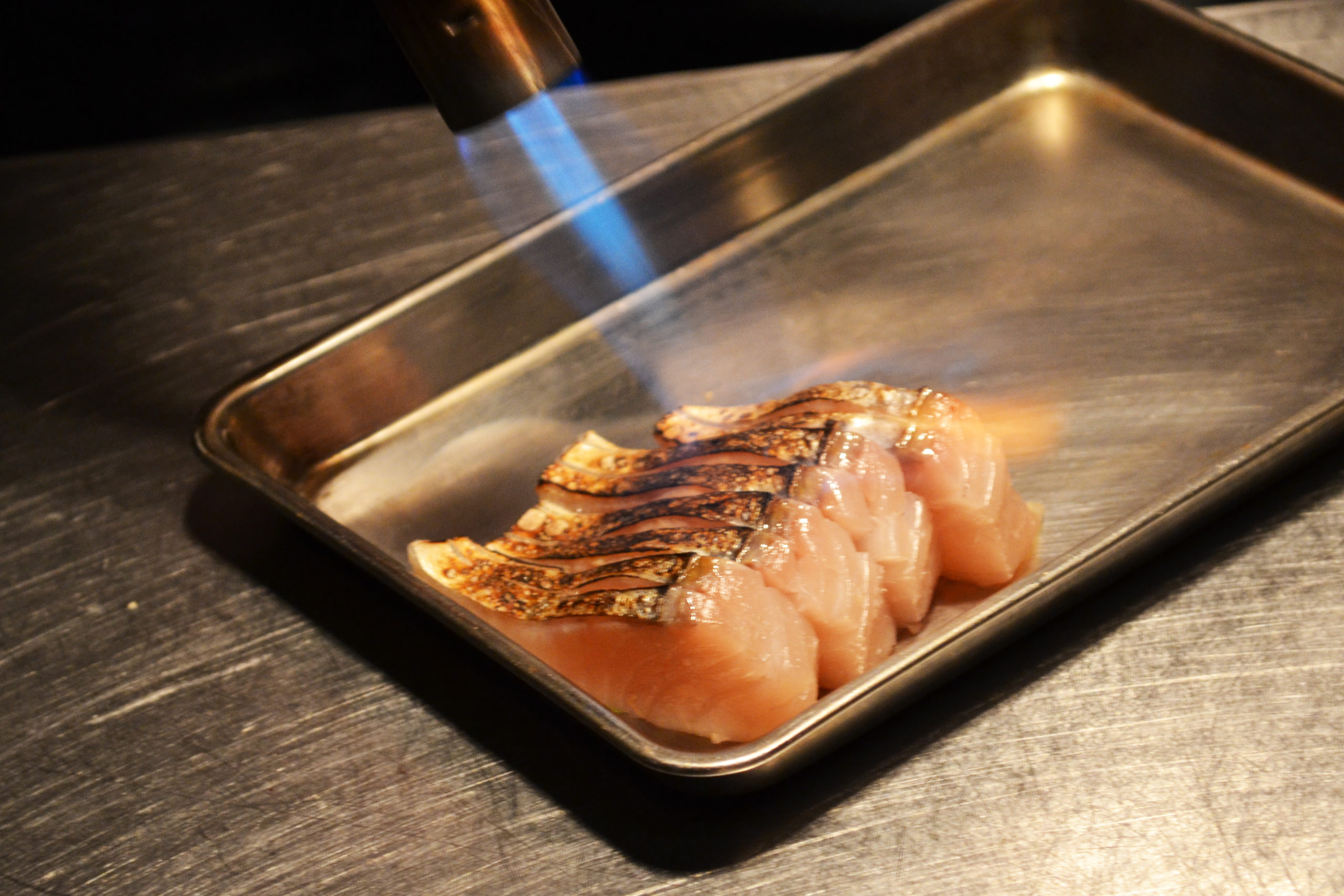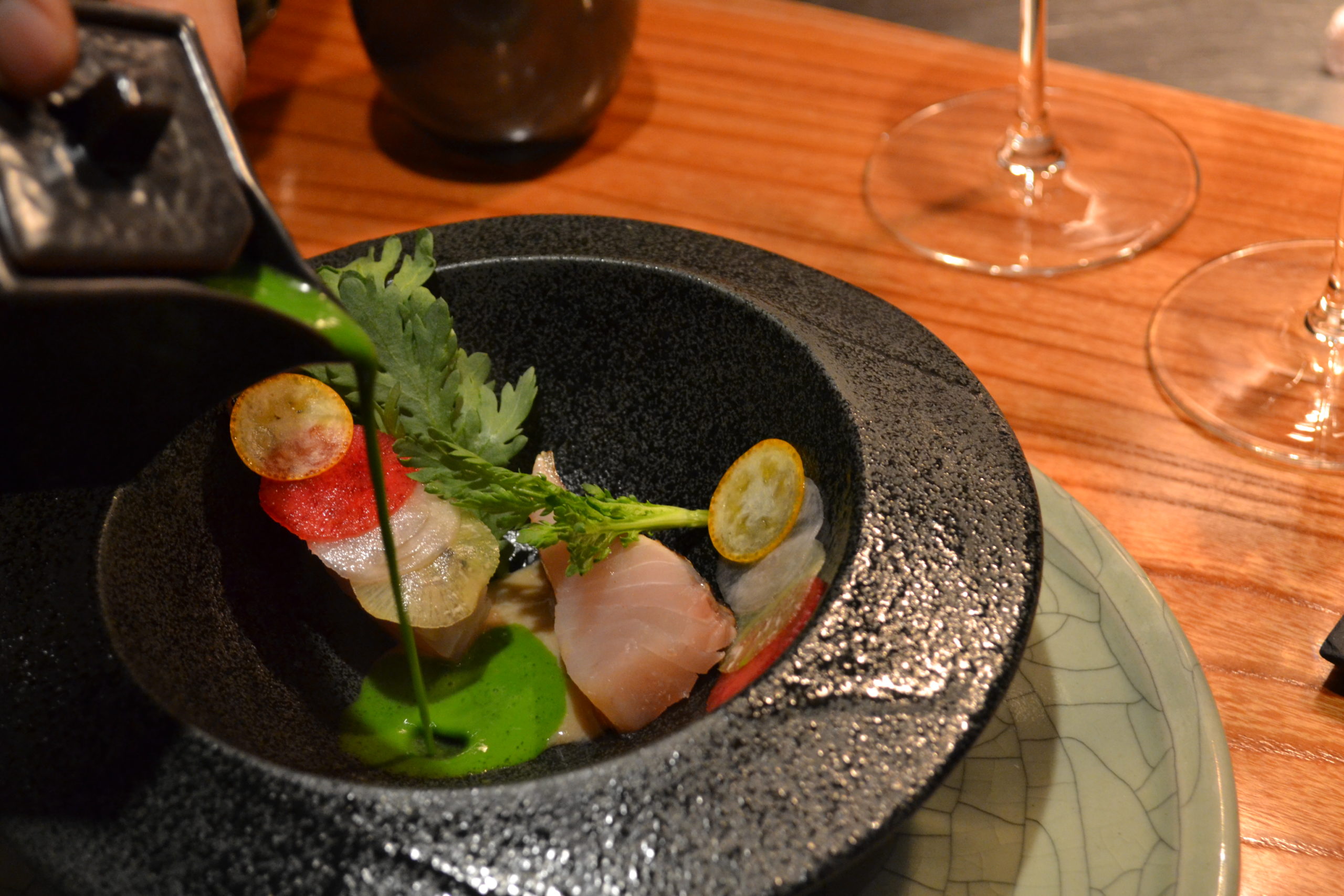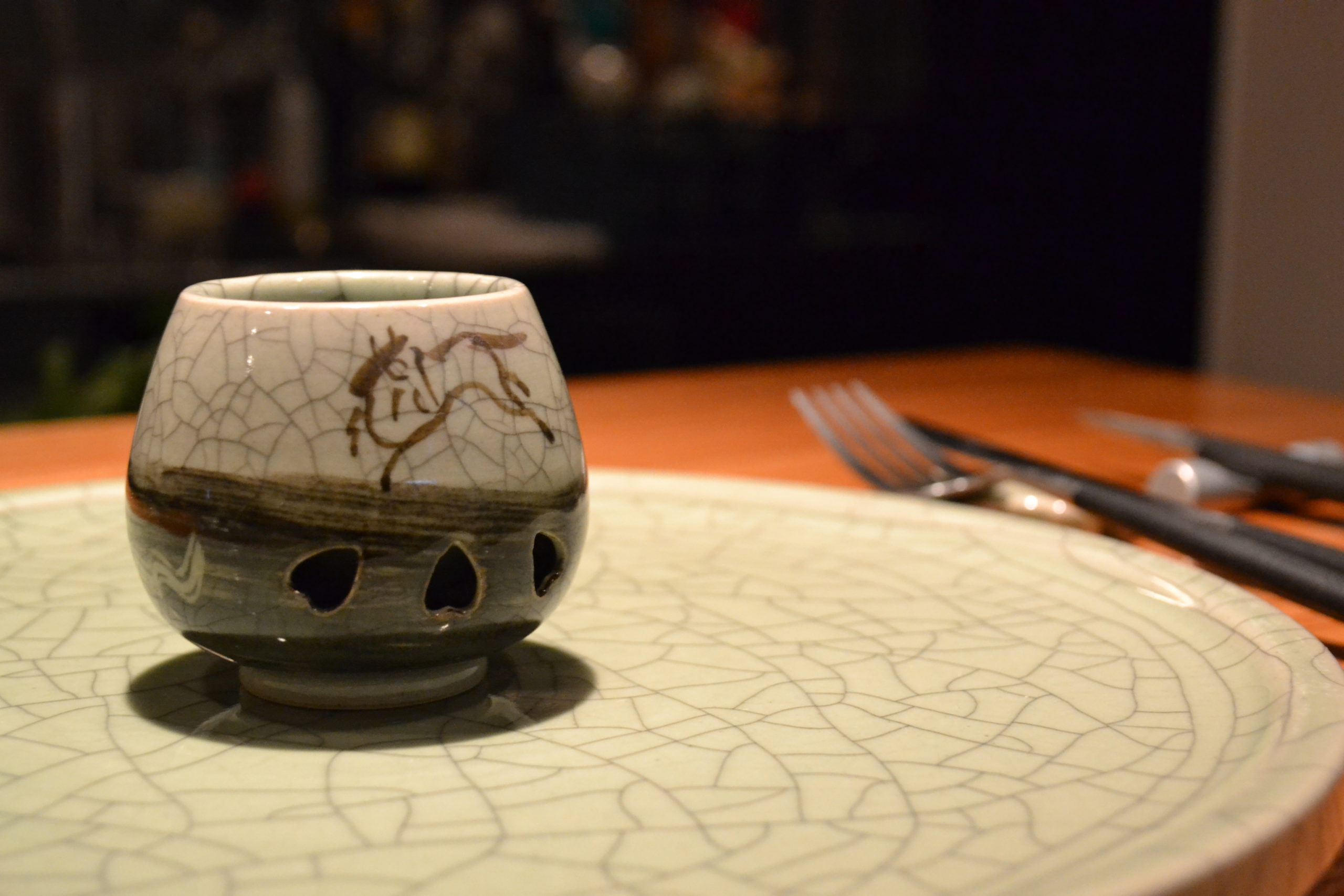 They show their commitment to Fukushima in addition to ingredients, such as the use of the pottery "Suetoku" of Obori-Soma-yaki which was relocated from Namie town to Koriyama after the earthquake disaster.
Princess Akoya, Haikara Rikkun, Mankichi Don, Fuyu Kanna, Mengeimo. These are all the names of "Koriyama brand vegetables" produced in Koriyama city under certain standards. In 2003, volunteers from the city's producers gathered, and the initiative began to create vegetables that symbolize the rich agriculture.Currently, 13 products are certified.

Nakata offers a unique French cuisine by actively incorporating various Koriyama-produced vegetables,including the Koriyama-branded vegetables. We opened up a store in 2019 along the Omotesando of Asaka Kunitsuko, a shrine of Koiyama.
"I've always wanted a place with a story to open my own store. There's no better place. because It's right in front of the god who built Koriyama," said owner chef Tomoyuki Nakata.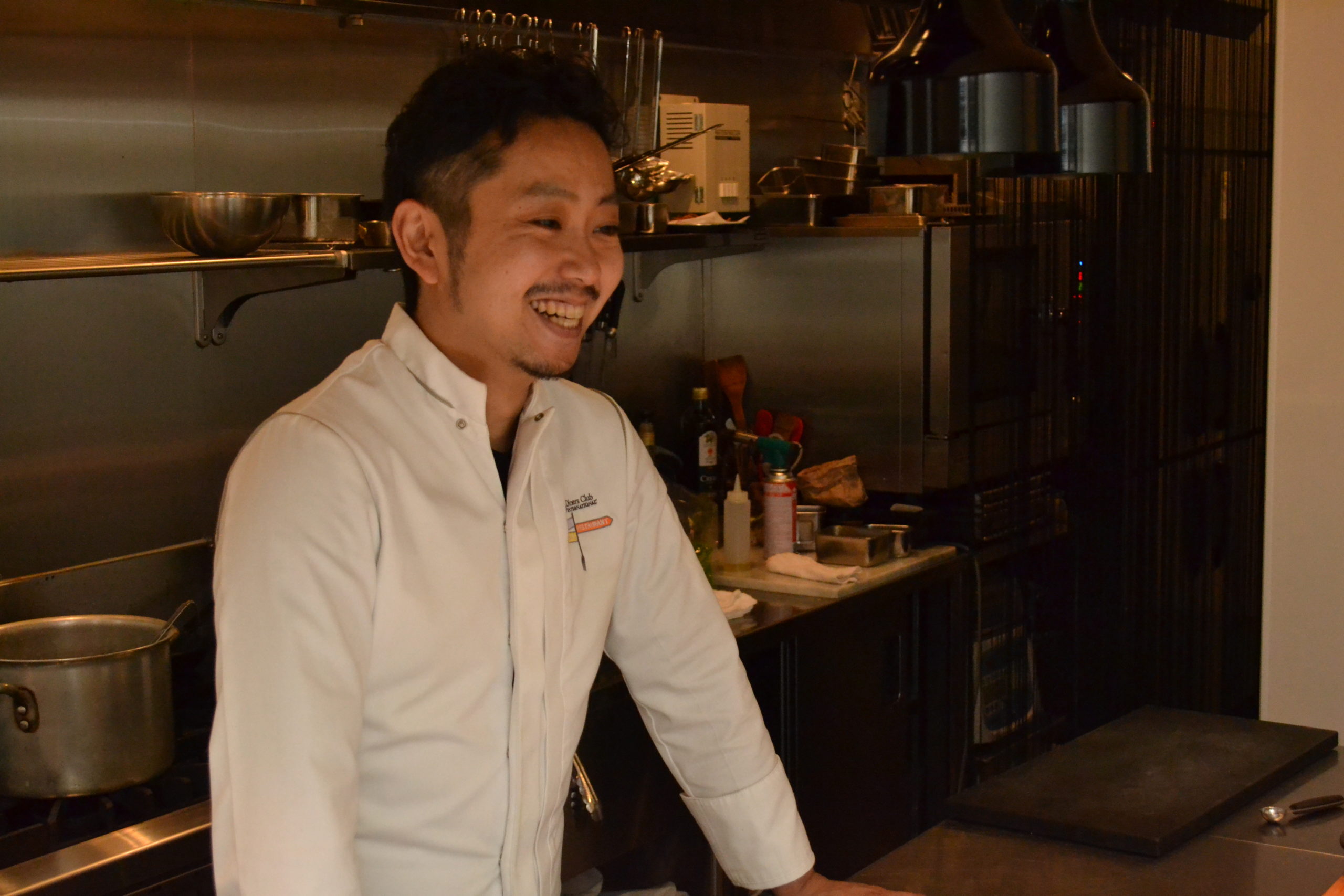 Nakata was born in Kanagawa Prefecture. During elementary school, he moved to his father's hometown, Koriyama, where he spent time with junior high school and high school. when I was a junior high school student, I decided to cook. He says that his mother, a teacher at a cooking and clothing college and his maternal grandfather who was a chef had a big influence on him.
After graduating from high school, he moved to Tokyo where he served as a souvenir chef at a French restaurant in Tokyo and a restaurant listed in the Michelin Guide. In 2014, with the invitation of Masayuki Okuda, an Italian chef who is active around the world mainly in Yamagata, Chef Okuda opened restaurant for local consumption in Koriyama.
Nakata has returned home as chef of a local production for local consumption restaurant newly opened by Chef Okuda in Koriyama.There were a number of local vegetables centered on "Koriyama brand vegetables" and Suzuki Farm Koichi Suzuki who promoted Koriyama brand vegetables.
I was surprised at the local vegetables centered on "Koriyama brand vegetables" and the existence of Suzuki Farm, which promotes Koriyama brand vegetables.

"Agriculture was an image of working as a clutter and three years after the earthquake disaster, I was wondering if vegetables in Fukushima would be okay. But I met Koichi and thought about agriculture. It turned out to be 180 degrees.The Koriyama brand vegetables, a challenge that nobody was doing were cool and the vegetables were better than anything.
I was in Tokyo, I thought that carrots were only carrots. There are many kinds of ginseng and the taste varies depending on the harvest time and the location of the field.In the past, I was thinking about what vegetables to match with the main meat and fish, but now I cook The other way around, I started thinking about how to match the main with the vegetables. "
My
Terroir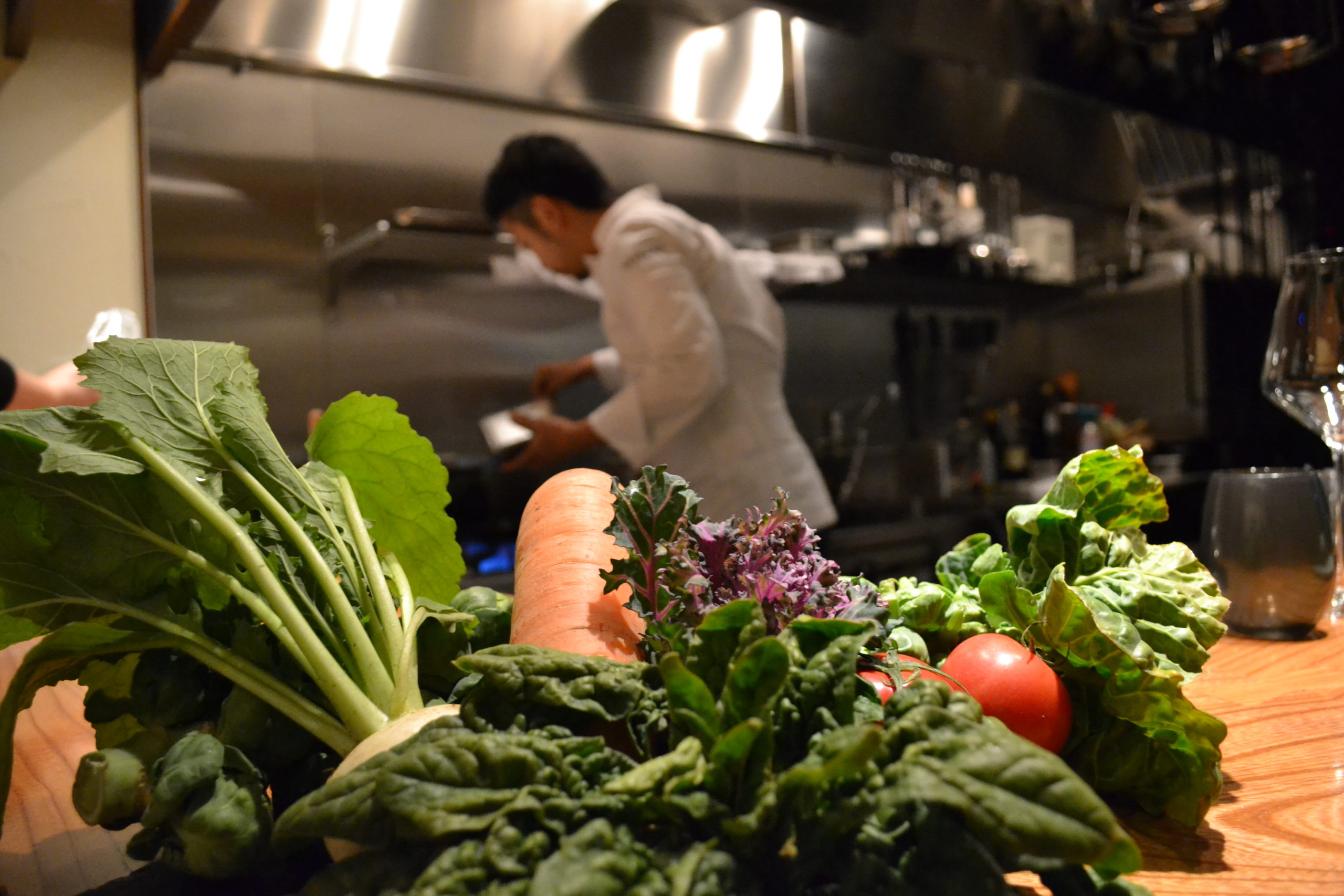 Vegetables harvested by Chef Nakata.
He says.. I go to the field almost every day. Most of the vegetables are mainly harvested by Nakata who visits farmers in the city at Suzuki Farm. He says their dishes have changed by entering the field and sometimes involving vegetables from where they grow which vegetables to use that day.
"After returning to Koriyama, we reduced the amount of salt and butter used for cooking. The more fuel-efficient the food, the more vegetable minerals and salt we get. There is no need to use extra salt. The vegetables themselves is enough to cook deliciously. The time spent on vegetables has been greatly reduced."
My
Mariage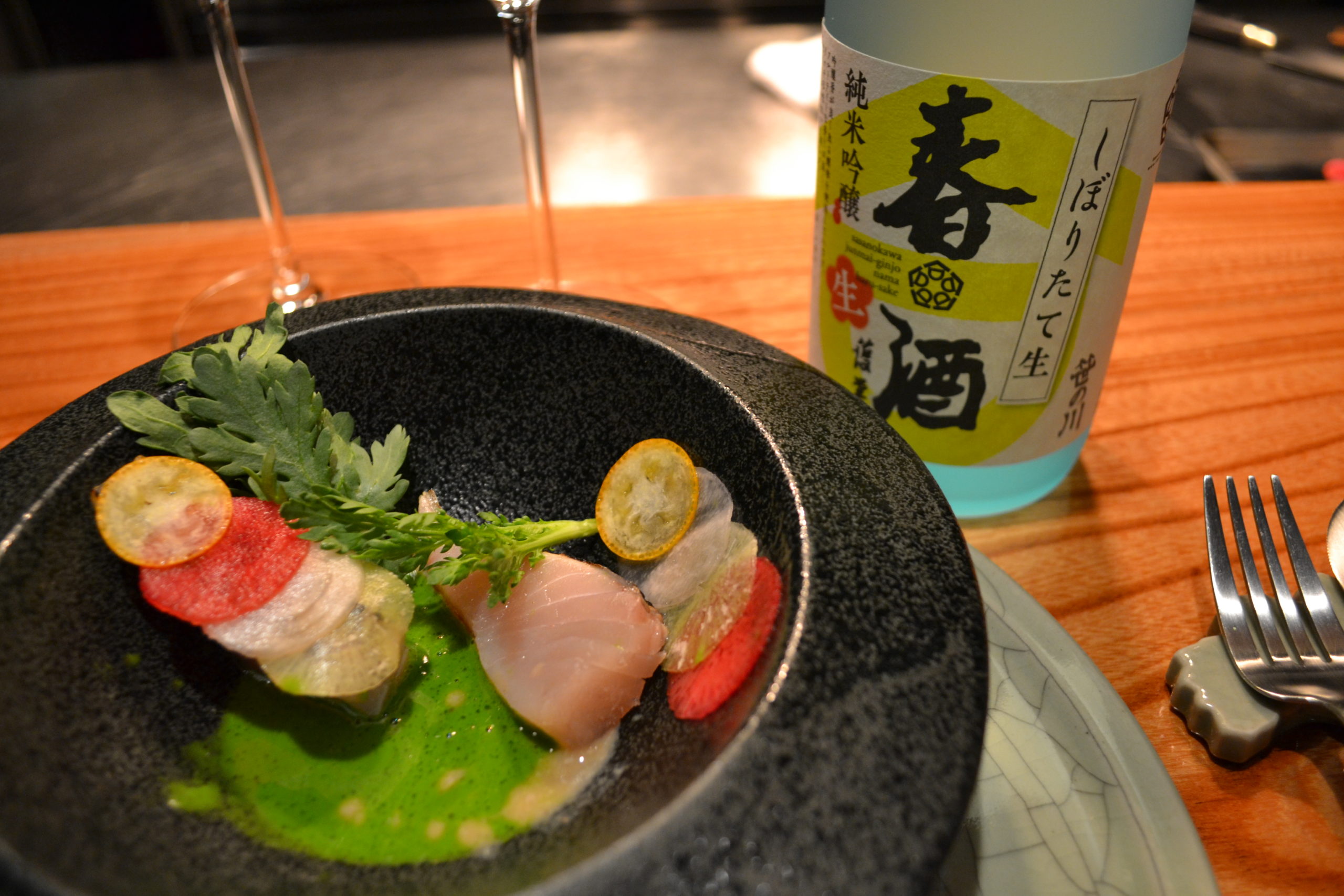 A spring dish where you can taste garland chrysanthemum and mackerel in a garland chrysanthemum sauce similar to the sea of Soma.
Lightly roasted Soma mackerel, topped with freshly picked garland chrysanthemums, and sliced colorful small turnips and kumquats.
Colored with two flavors: clam soup and anchovy seasoned spring chrysanthemum sauce and porcini sauce. The liquor to be combined is "Haru Zake" from Sasanokawa Sake Brewery in Koriyama City.
"The kanji for 'Shungiku', 'Haruzake' and 'Sawara' have the word 'Spring', so I used them as a food stuff. you need the fat to eat delicious vegetables, so eat it with sweet mackerel in the cold season. The vivid shungiku sauce is inspired by the sea of Soma. Because the fish has fat, I chose a refreshing liquor while enjoying the refreshing taste."
Chef Nakata is particular about vegetables and other ingredients from Koriyama. He use the meat from Takeda Ranch as beef and grow the Koriyama brand "Uneme-ushi". Takeda Farm's beef has won three top awards at the Japan Beef Fair. It has a track record comparable to famous brand cows such as Matsuzaka beef and Yonezawa beef. A variety of vegetables are provided to wrap the wavy beef slope that has been aged for more than 60 days. Sake is "Kaworu-yama" of Niida Honke in Koriyama City.
"A dish where you can feel the 'delicious earthiness' of vegetables from both ingredients and sake. Kayett is dish spread rich cabbage under the beef instead of butter, grilled turnips, a little bitter petit bale around the beef, minced beef which is usually lost, and stuffed into brussels sprouts,
Attached egg confit using radium egg from Iizaka Onsen and burdock that was finally fried. The sauce uses fondant and black truffles, and is accompanied by puree of chrysanthemum. Kaworu-yama is sake brewed in red wine barrels. This is also sake with a slight acidity and earthy aroma. "

Chef Nakata establishes his own local production for local consumption in a local production. And local consumption style while repeating encounters with local producers and ingredients based on French. He laughed at his changes and said, "It's not French, recently."
"When I was in Tokyo, I thought," Eat my food I cooked "but I didn't have that feeling anymore. I guess it's because I want to express the splendor of producers instead of expressing myself in cooking.
I am a cook and a producer now so I want to connect the food and customers with such feelings and also connect customers and producers with chefs and other shop producers. By doing so, I want to be a "chef who connects people."

---
Data
Nakata
Address:1-6-23, Shimizudai, Koriyama-shi, Fukushima
Open:Tuesday to Saturday 17:30 to 23:00 (course last order 20:00, 20:00 to free order)
Closed:Every Sunday, Monday, National Holiday (Needs reservation on Sundays and holidays)