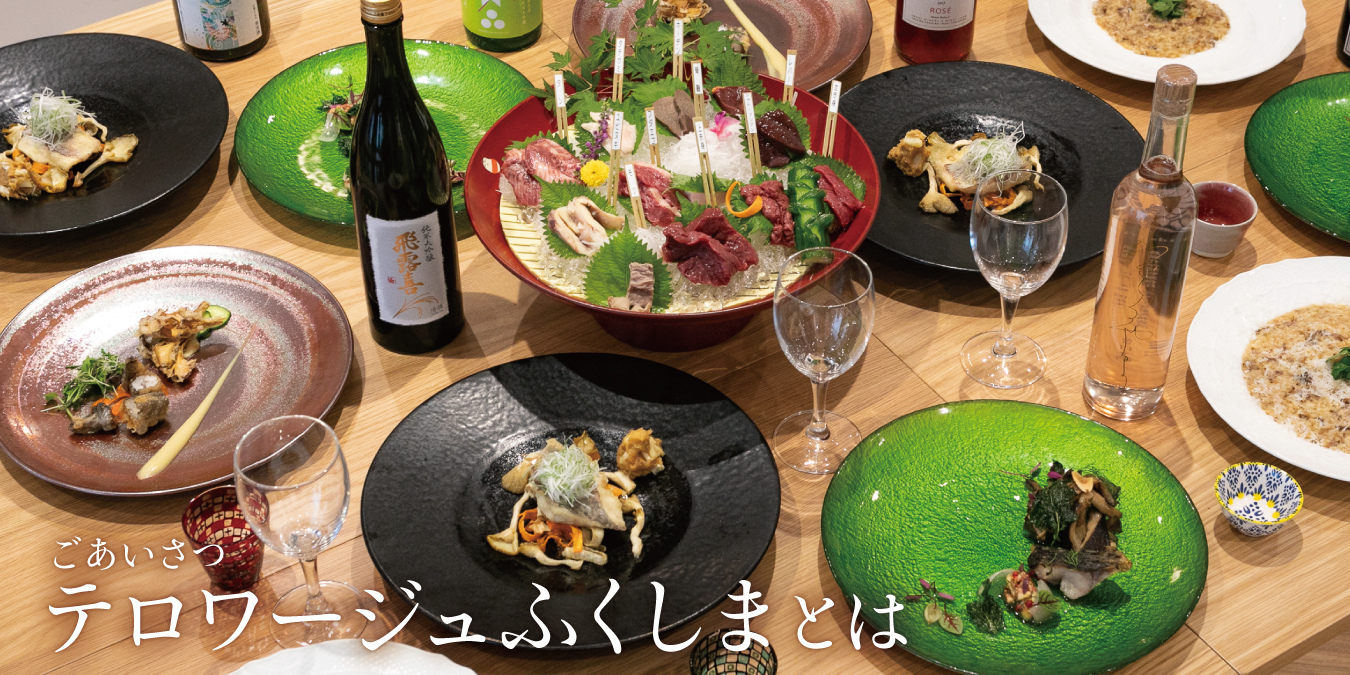 "The ultimate taste is in the production area" based on the philosophy, polish the combination of cuisine shortly called mariage using local ingredients and local liquor,"terroage" is a project to convey the wonderfulness of Fukushima's food to people in and outside of Japan. We will introduce such shops and inns where you can make local and Fukushima ingredients into delicious dishes with reliable eyes and skills and enjoy exquisite harmony with Fukushima sake.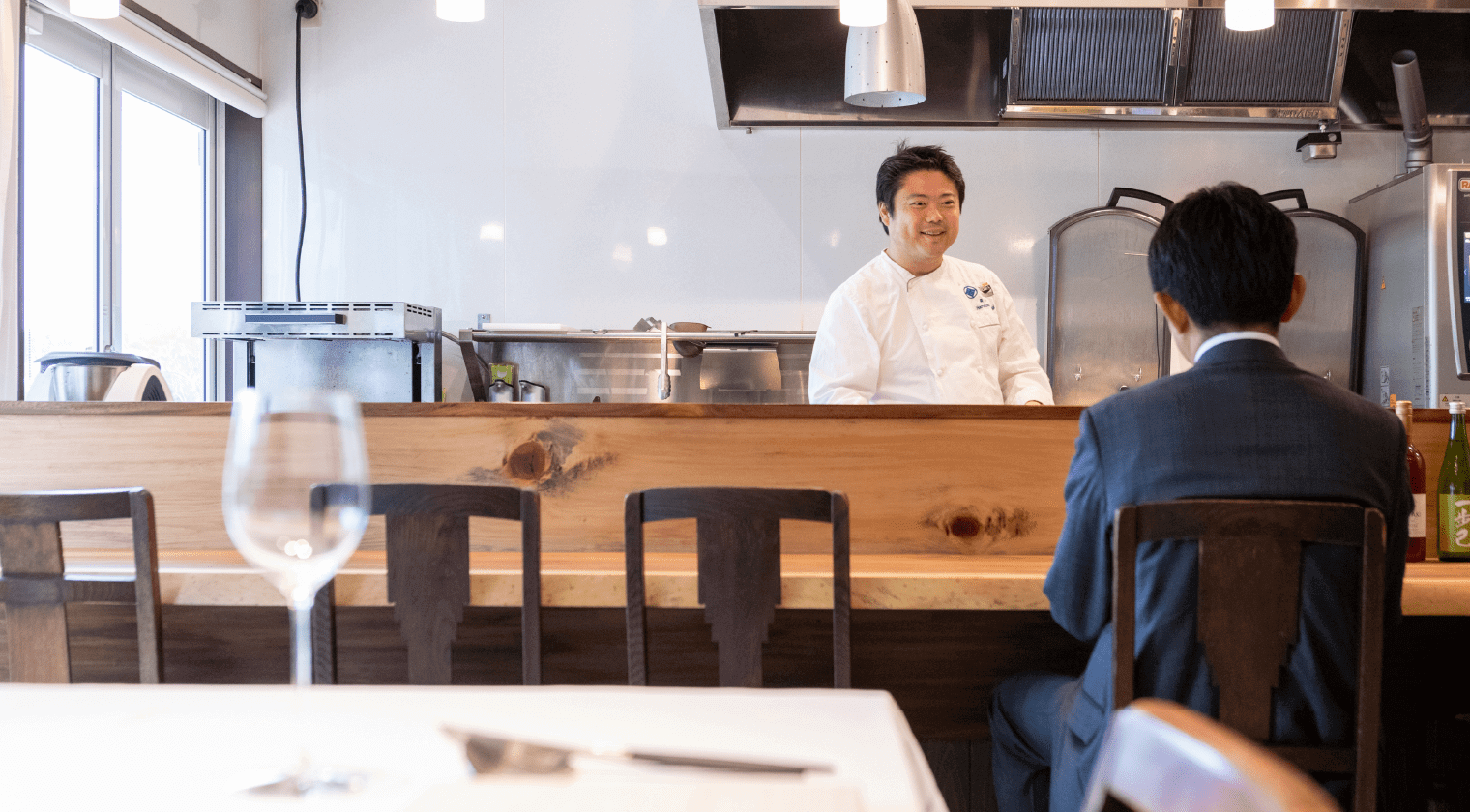 What's the meaning of terroage…
---
terroir : Terroir; climate and human activities
mariage : Pairing of food and liquor
It was proposed by Mouri Chikafusa of Sendai Akiu Winery. In support of Mr. Mouri's call for shaping food tourism in the Tohoku region Fukushima Prefecture has begun full-scale activities in 2019.
Activity philosophy
---
Fukushima Prefecture is a region rich in nature with mountains, rivers, villages and the sea.This rich nature and the temperament of the tenaciously eager to research produce excellent ingredients for every season.
Fukushima Prefecture has many high-quality liquors as approved by Japan's highest number of breweries that have won the Gold Prize at the National Sake Appraisal for the seventh consecutive year.There are also wines and local beers that have been produced and sold since the earthquake so you can enjoy a variety of sake.
"Terroage Fukushima" is a restaurant and inn that refines the mariage of "Fukushima Sake "and "Creative cuisine using fresh local ingredients" to pursue delicious flavors that will be remembered by visitors and spotlight the producers who support it. By introducing them to everyone, We aim to contribute to the development of food culture in Fukushima Prefecture and the Tohoku region as well as to the increase in the exchanged population through "food tourism".
Thoughts / Aims
---
1 . We want you to know the real taste of local food
Producers who feel the local climate and make good ingredients based on ingenuity,a chef who chooses local ingredients with certain eyes and tailors them into dishes that can only be eaten there with certain skills. The strength of local food is that they are close to each other and are connected with a strong relationship of trust.This is the basis of our philosophy that "the real taste lies in the locality".
2. We want you to enjoy something you can taste and available in that area only
For example, if you come to Fukushima from Kansai, you probably don't want to eat Kobe beef in Fukushima.The best way to live and feel the land with all five senses is to enjoy the food and sake of the land together. Therefore, We will introduce restaurants and inns that fulfill that desire and aim to bring home the best food memories.
3. We want you to come to visit Fukushima more and more in Tohoku region.
Tohoku is very rich in nature,many people are shy and with few words but with a warmest heart. However, unfortunately the number of in-bound tourists are lower than the national average and the attractiveness and its values aren't fully understood. So we would like to see more visitors from home and abroad to come to visit Tohoku region,I want you to come to Fukushima Prefecture is only one to two hours by Shinkansen from Tokyo. One of the main aims and wishes of this project is to increase the number of people who come to Fukushima, the gateway to the Tohoku region to enjoy the most delicious food.
Under these thoughts, "Terroage Fukushima " was launched in 2019 by the "Fukushima Wine Wide Area Cooperation Council "and "Fukushima Minyu Shimbun" cooperated to form an executive committee and started activities with the support of the "Ministry of Economy Trade and Industry and Trade and Industry's local tradition and attractiveness dispatch support project." The initiative has only just begun but members of the Executive Committee visit each store and inn explain their philosophy and understand and sympathize with the mariage of cuisine and sake and from now on we will expand that circle.
January 1, 2020
"Terroage Fukushima" Executive Committee / Chairman
Mr.Hideya Kitamura
top page