Standing in the store everyday and cooking. Fukushima's "now" that can be put into your daily life
[Japanese restaurant]Gotoku
Naka-dori・Fukushima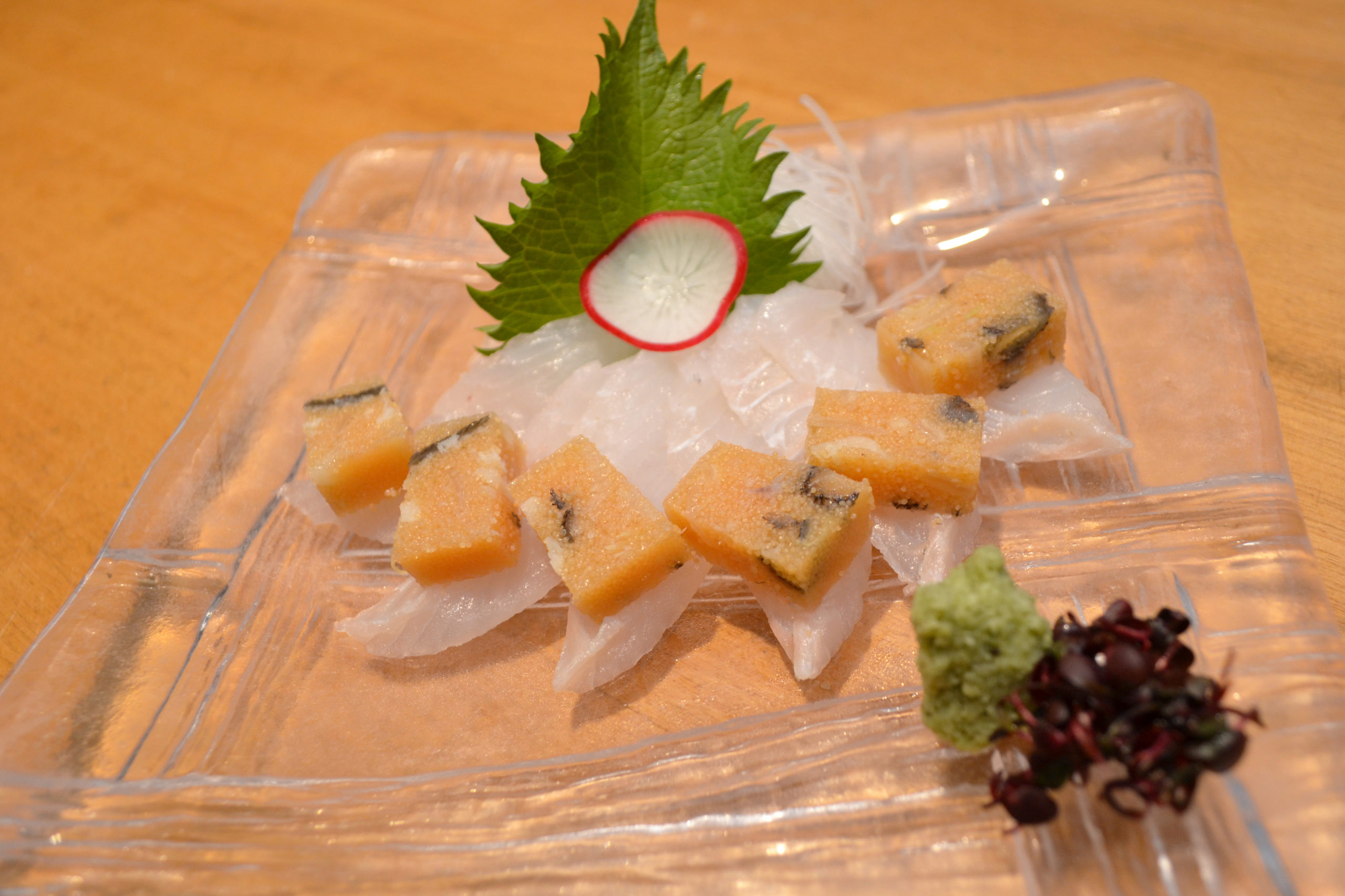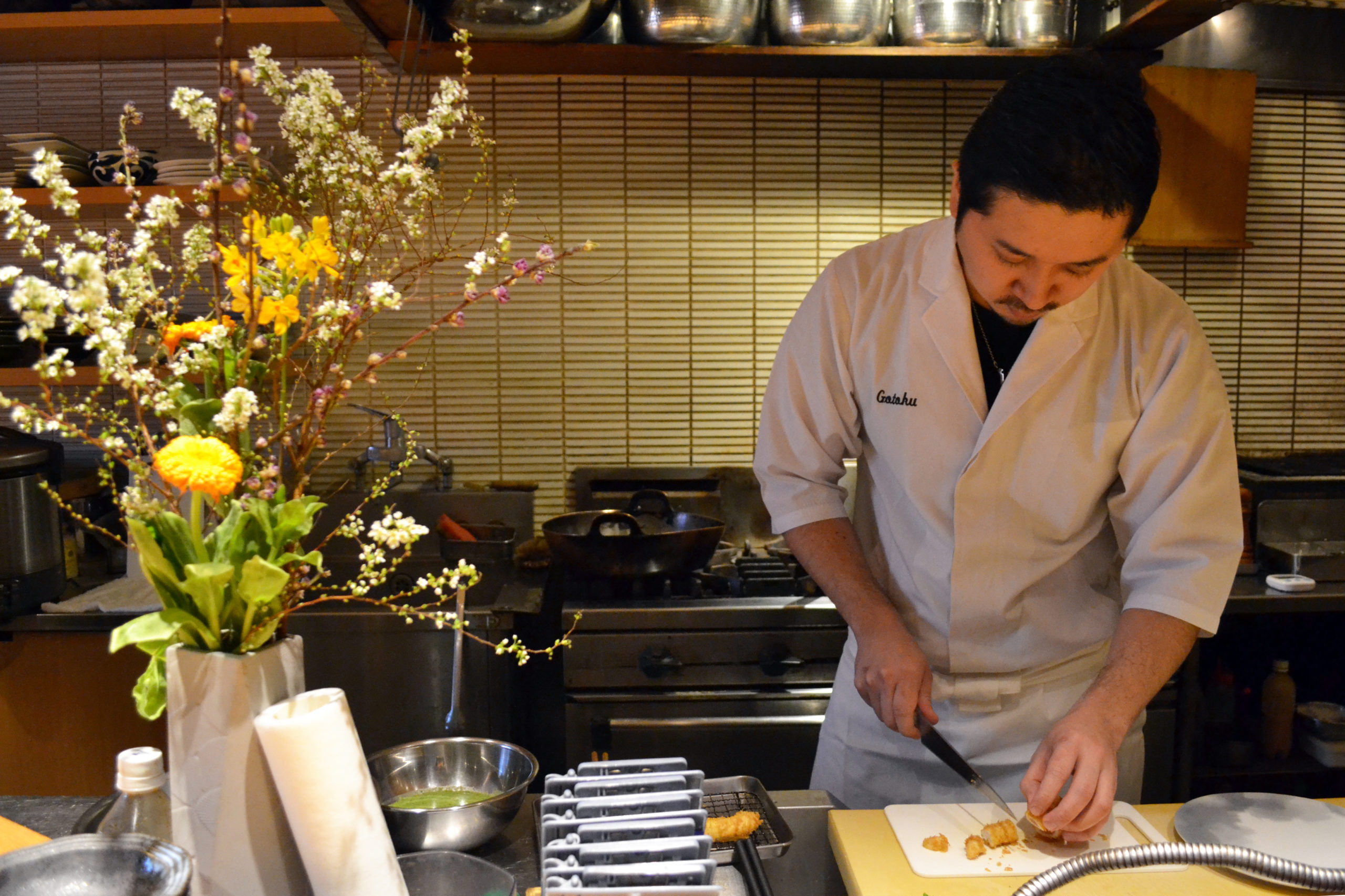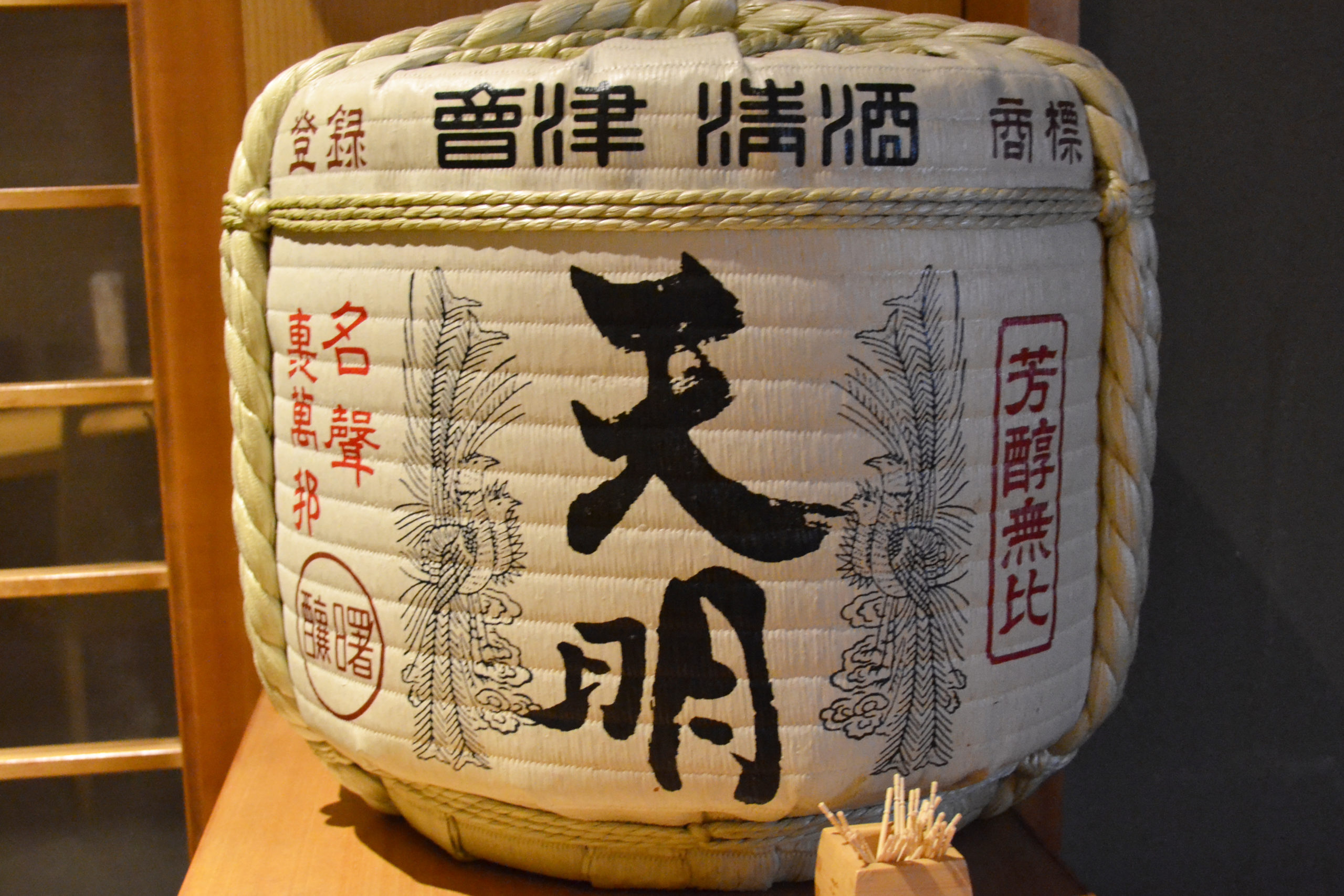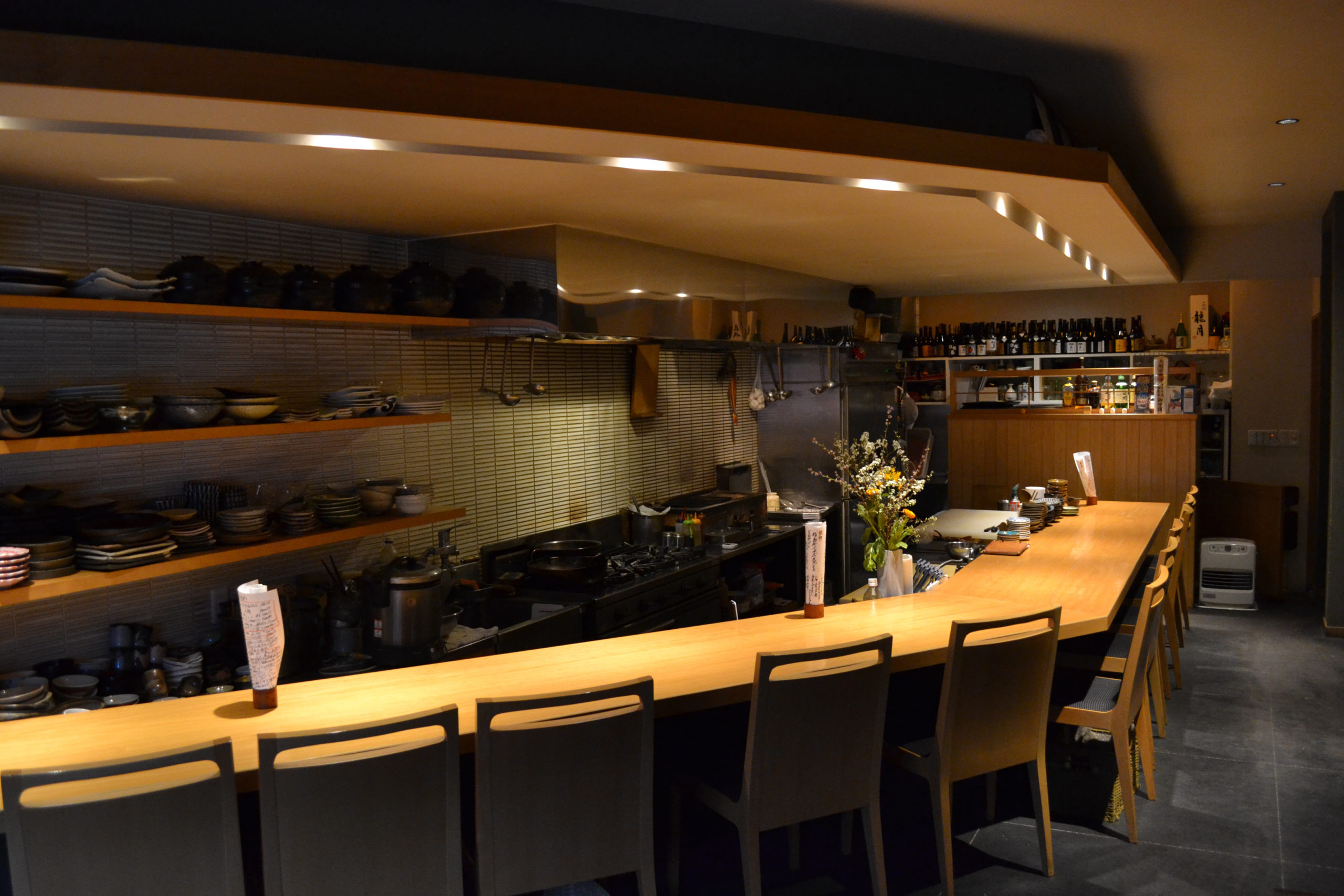 Cook in the open kitchen while facing customers. The confidence built up in Tokyo led to the style of this store.
"One day I want to open my own store with my hometown"

There are many cooks in Fukushima who have accumulated such experience and realized their wishes in Tokyo. One of them is Toshimitsu Abe, the owner of "Gokuku" in Shinmachi, Fukushima City. I spent my training period in Tokyo with the firm determination to have a local store by the age of 30. A red lantern shop is also acceptable. Let's fight with the skill that I am 30 years old. If it doesn't work, it's not anyone's fault, it's just your inability.

In Tokyo, Mr. Abe has refined his skills at creative Japanese restaurants in Ginza and Jiyugaoka. Ten years have passed, and the Great East Japan Earthquake occurred in the same year when I decided to return to Fukushima. After a while, I left home, but my ambitions didn't shake, and in 2013, two weeks before I turned 30, I finally opened my own store, "Gokutoku".

"The store name was taken from the iron support" Gotoku "for hanging the pot on the stove. Gotoku is an indispensable part of cooking, holding the space between the fire and the pot. I decided to use this name in the hope that this store will become an indispensable presence for customers. "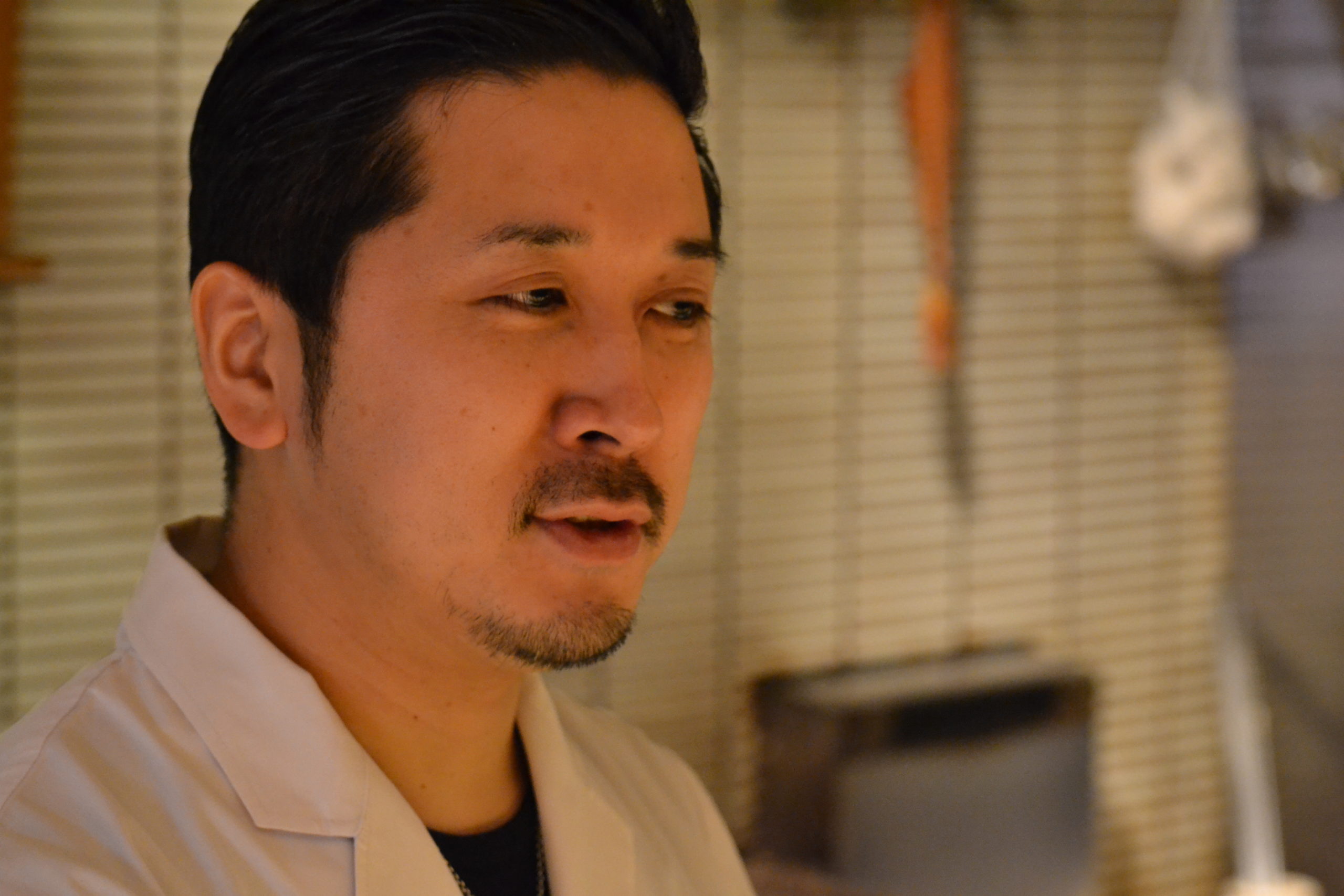 "I was blessed with people" in Tokyo, says Mr. Abe. The longest-working shop and the last shop that worked in Tokyo after the earthquake were born in Fukushima. Many of our colleagues and juniors who work together are from Fukushima, and it is because of the cooperation of those colleagues that we have been able to open the store to this day. In particular, I am making the most of such encounters, the experience gained from the encounters, and the connection with the producers.

The ingredient in Fukushima that Abe is particular about is "Kawamata Chamo", which he has been using since his training.
My
Terroir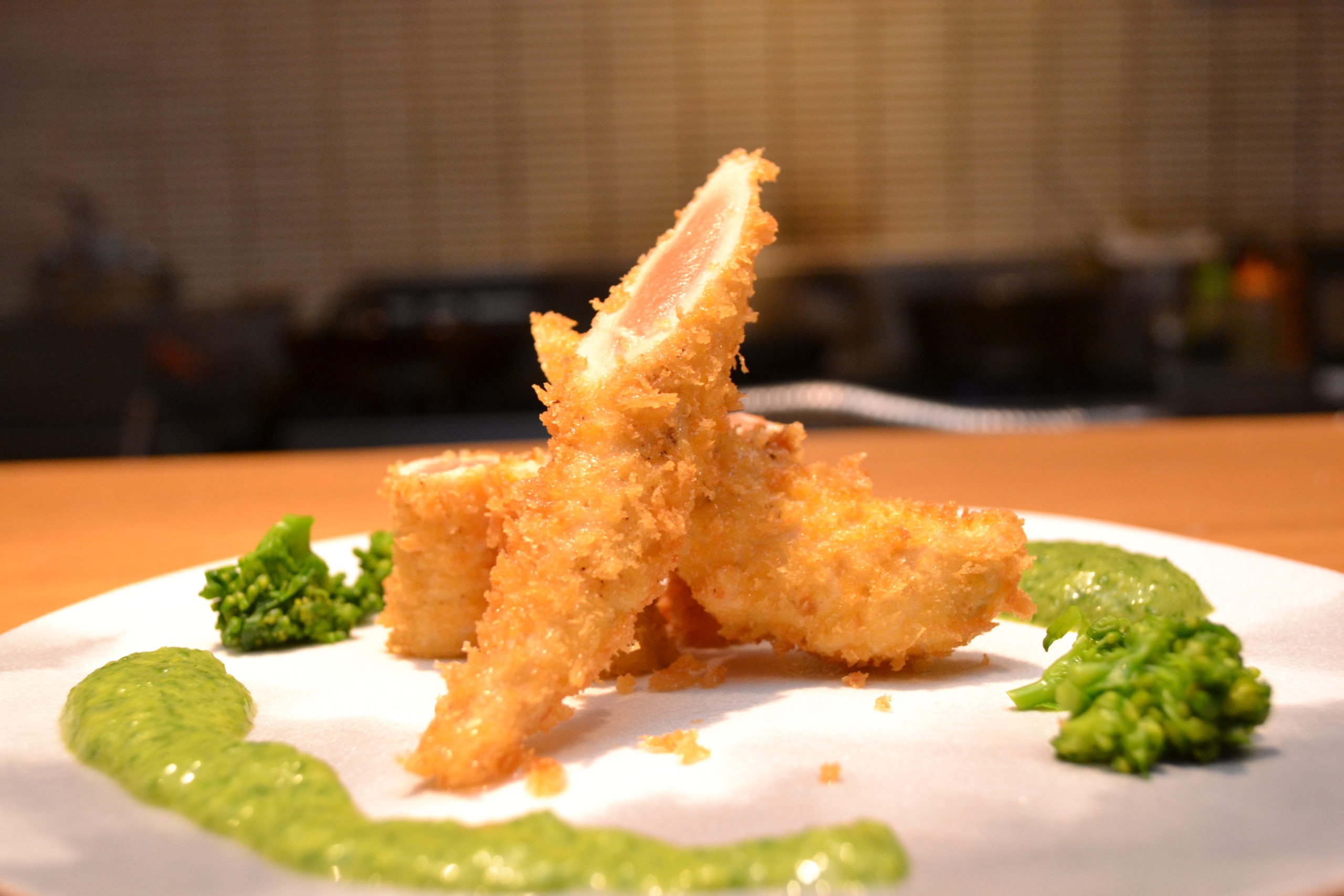 Kawamata Chamo is proud of its umami, and is like a long-time friend of Abe.
I met Kawamata Chamo when I was 20 years old. For the first time, I visited the Kawamata Agricultural Promotion Corporation, which deals with Kawamata Chamo, with the president of the Jiyugaoka era who wanted to use local ingredients. It has been a long-standing ingredient in Abe's culinary life, and has continued to face her for more than 15 years.

"The best thing about Kawamata Chamo is its strong umami, but in addition to that, the producer's thoughts are great. The earthquake struck me once, but I haven't seen the revival from there. It seems that the number of shipments has increased since before the earthquake, and I think that it is a food that we will continue to use for a long time. "
My
Mariage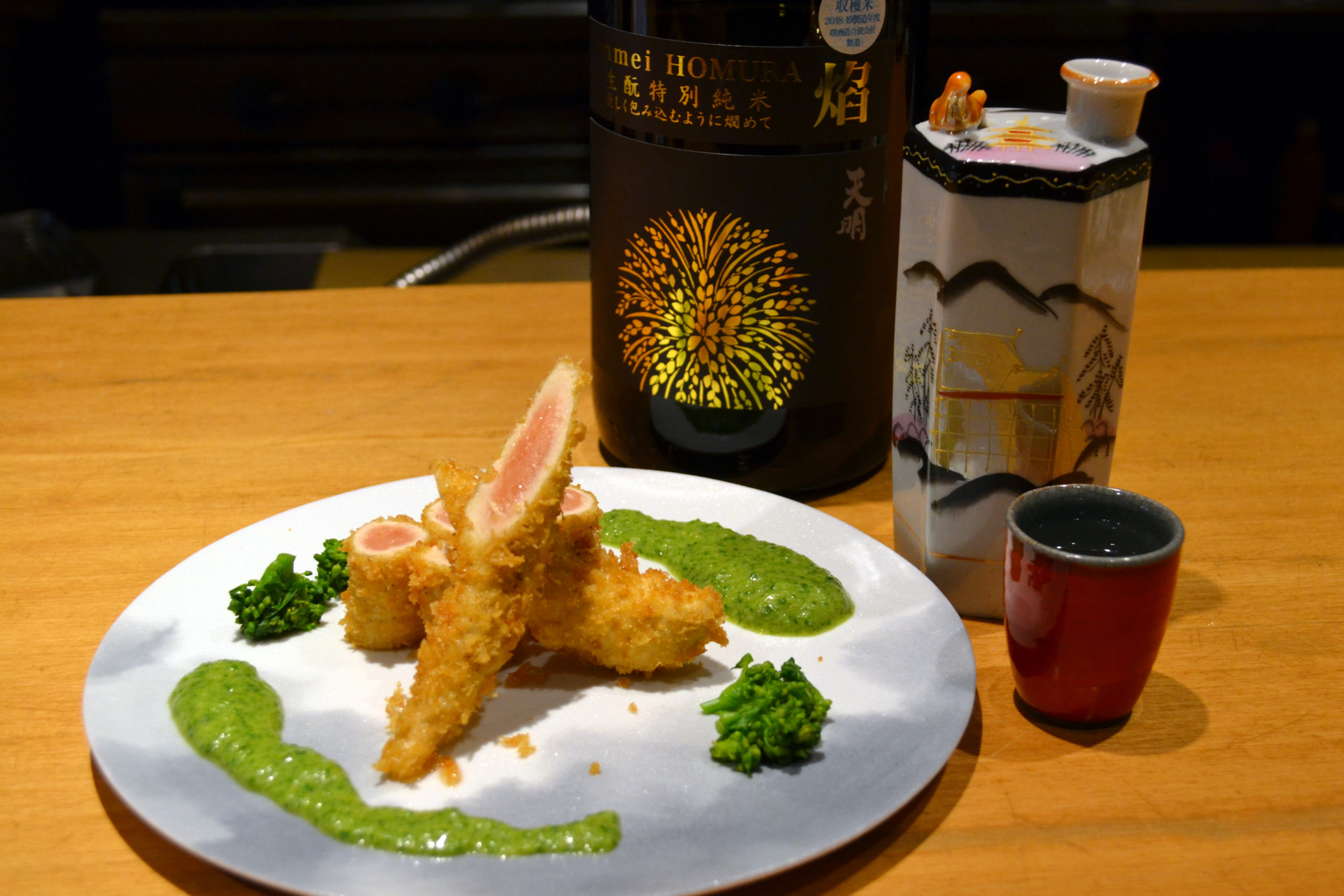 Kawamata Chamo fried pork cutlet with rapeseed sauce
Quickly fried such Kawasaki Mamoru chicken breast meat and served with rape blossom sauce with a spring scent. The rare pink flesh of the chicken meat is vivid. The rapeseed sauce has the sweet taste of onions and Saikyo miso.

"The rare and delicious taste of Kawamata Chamo. In order to take advantage of it, we fried it at a higher temperature for a short time than ordinary fried food so that you can feel the umami more. Please enjoy it slowly with liquor. I want to. "

Mr. Abe, who also has the qualification of a tofu liquor master, said that he joined the "Aizu-Bange Town Akebono Sake Brewery" Homura kimoto Tokubetsui Junmai Tenmei is one of the store's flagship sakes, which has been served for a long time since the opening of the store. There is also a large barrel in the store. Among these, "flame" is characterized by one of Tenmei's most gentle tastes. This is a recommended sake for Abe-san.
One of the representative fish of "Jobanmono" caught off the coast of Fukushima is the sashimi. Mr. Abe's idea also shines there. A style of sashimi wrapped in boiled sashimi made from skin and eggs. In order to fully enjoy the white meat of the flounder without soy sauce, the boiled seasoning was purposely seasoned with a rich flavor. The liquor to be matched is "Hirotogawa Junmai Ginjo" by Tenei-mura Matsuzaki Sake Brewery. It is a sake that goes well with sashimi and has a gorgeous flavor as well.

Mr. Abe takes in many ingredients from the prefecture, such as purchasing vegetables twice a week from a farmer in Ryokawa-cho, Date City. On the other hand, he says that he likes to add ingredients he likes and sake to the lineup regardless of whether they are from within or outside the prefecture.

"Of course, it's good that Fukushima gets excited by using local ingredients, but to be honest, I don't really care about that. For me, what I was born in Fukushima was Even if you don't scream Fukushima in a loud voice, the people of Fukushima stand up in the store in Fukushima and serve delicious food every day. I think it's just as big for me as being to taste the local ingredients. "

Having a 30-year-old skill in Fukushima. If that doesn't happen, it's bad for me. It was the store that I started with, but now it has grown into a store that is widely loved by locals. Local customers who have become regular customers use the store with the hospitality of important customers from other prefectures. He says he feels great joy at such times.

Be a store loved locally. And to touch people and tastes that can only be found in that store. That may also be one of the pleasures of terrouge.
---
Data
Japanese side dish Gotoku
Address:3-13 Shinmachi, Fukushima City, Fukushima Prefecture
Tel:024-563-1519
Open:18:00-24:00 (Last order 23:00)
Closed:Every Thursday
Average Cost:6,000 yen to 7,000 yen