100% Iitate-mura buckwheat flour made with soba flour Edo soba so that the appearance of yourself will one day become a view of the town
[Soba / Japanese restaurant] Omachi Okameya
Naka-dori・Fukushima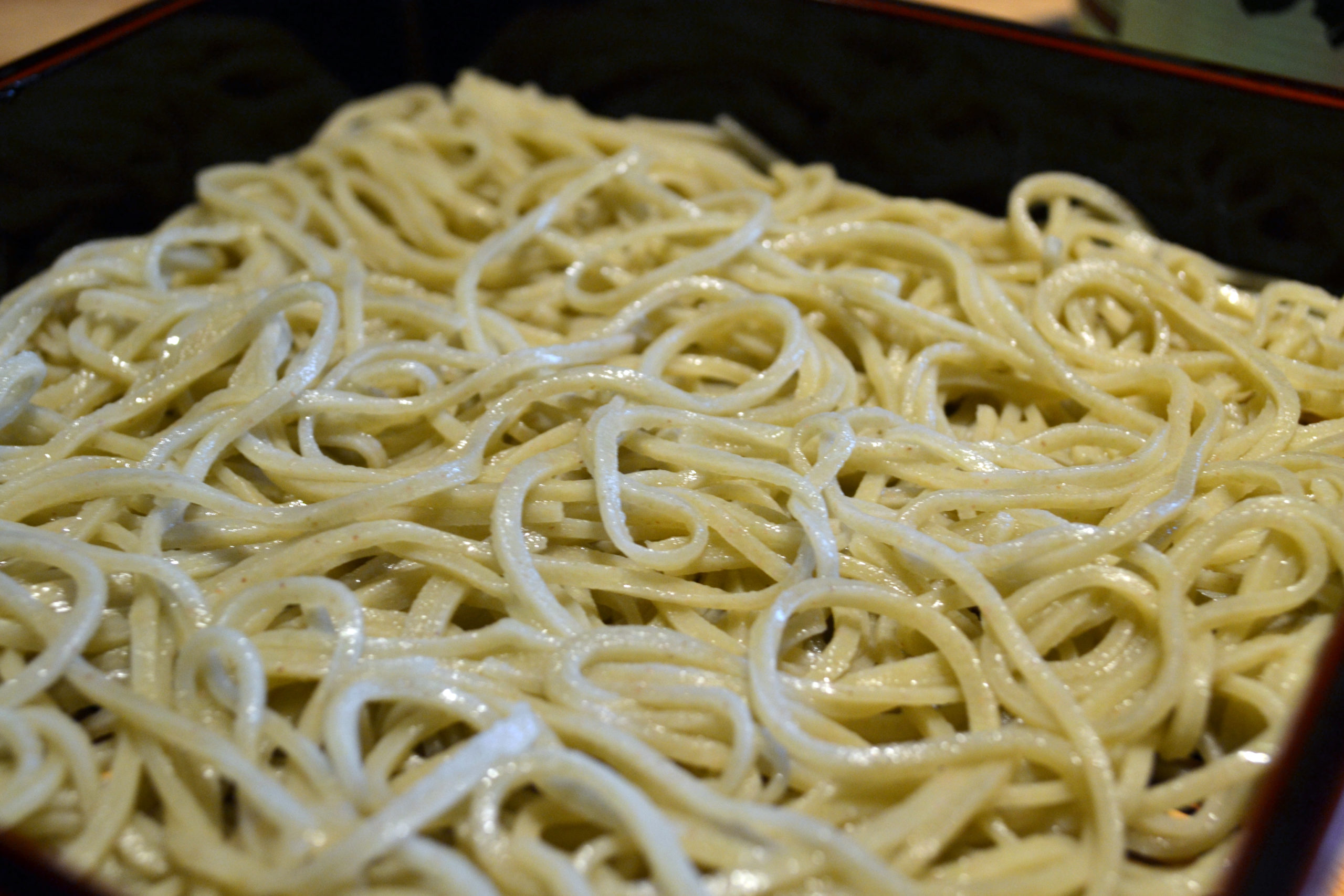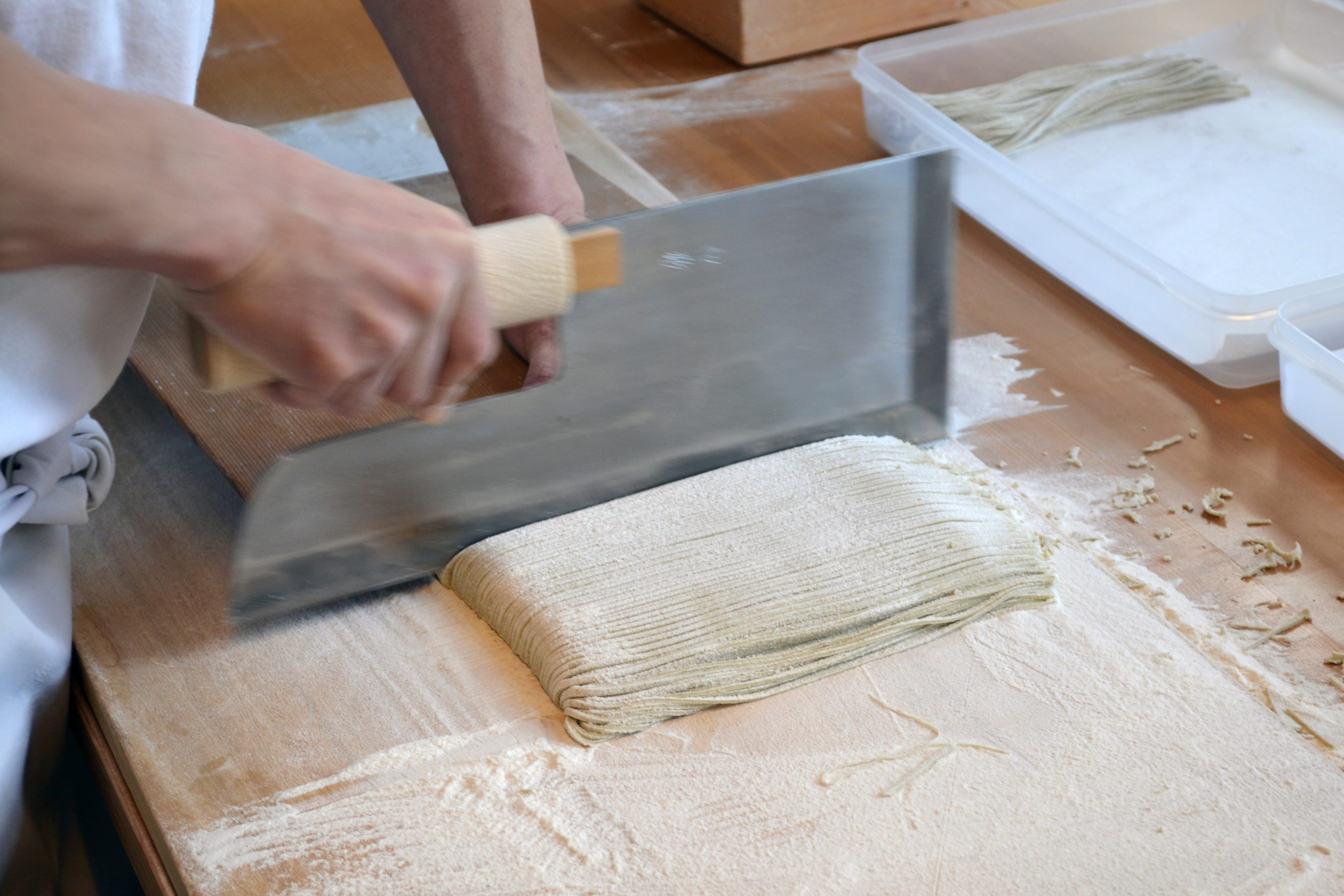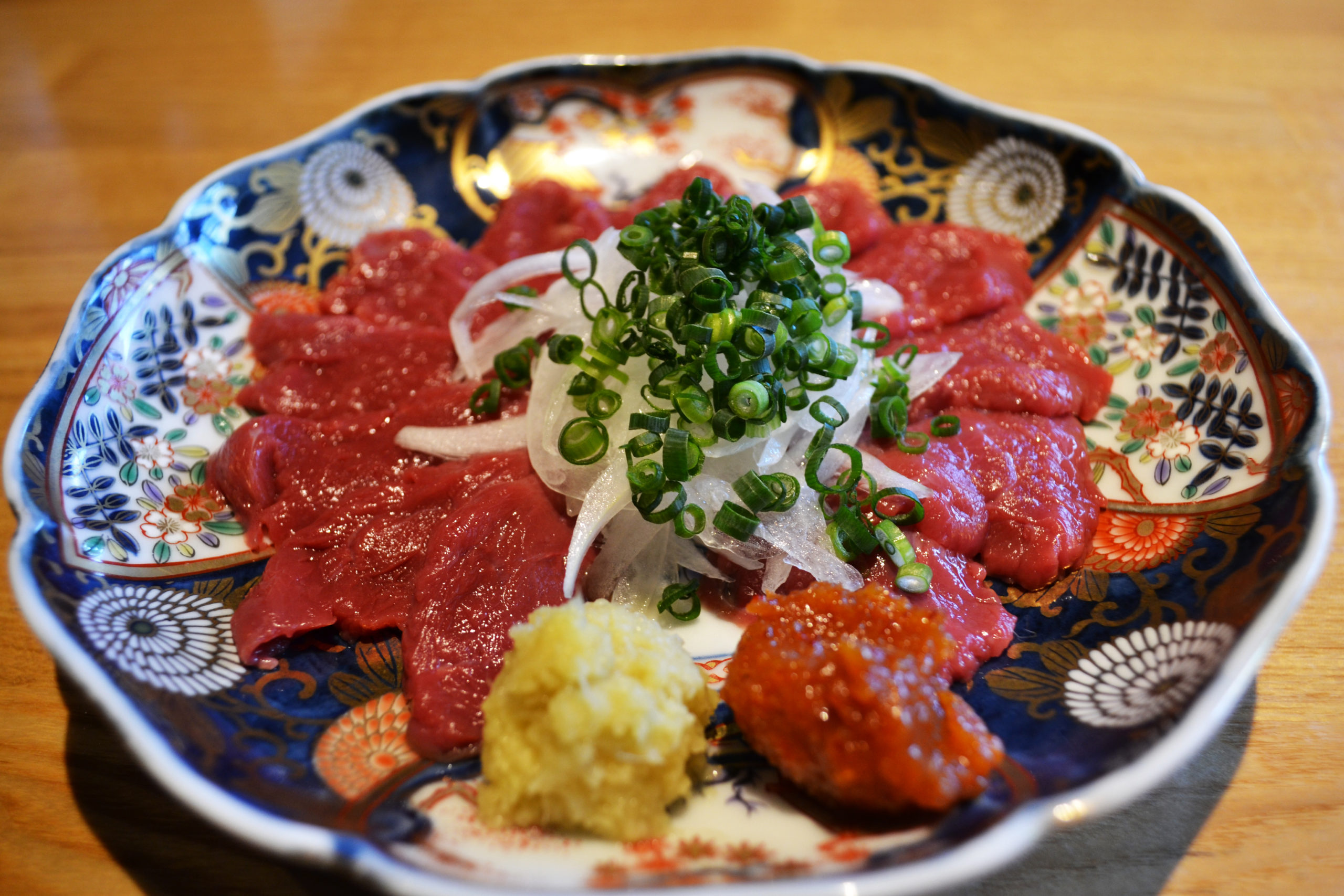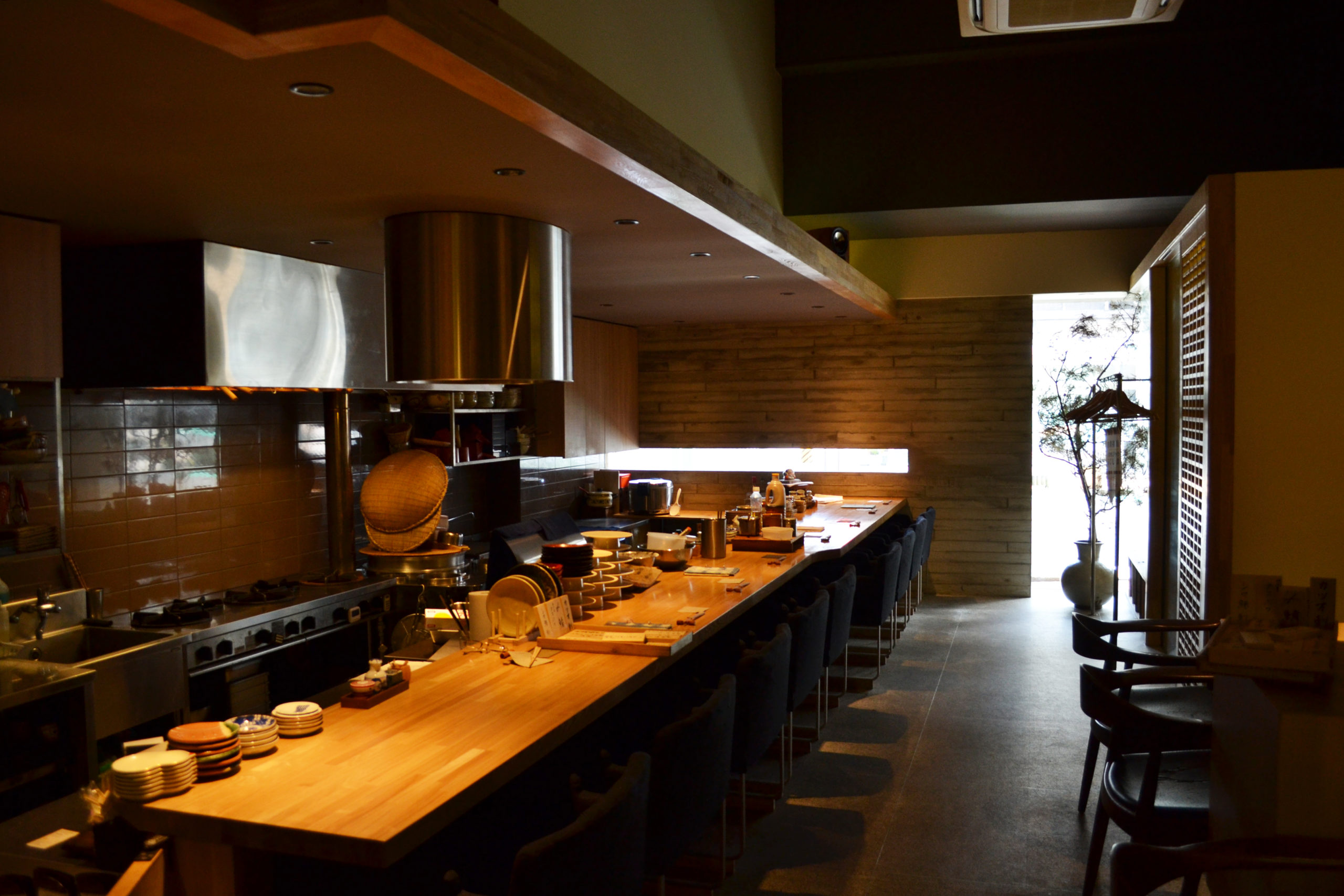 Omachi Okameya facing the prefectural office street. He says that the reason why he made it to the counter kitchen is to "convince customers to eat".
About 35km east from Fukushima City. Iitate Village, Soma-gun, located in the mountains of the Abukuma Highlands. Although it was a rural village with abundant greenery known for its brand name "Iitate beef," it was temporarily forced to evacuate all villages due to the effects of the Great East Japan Earthquake and the accompanying nuclear accident. After that, the evacuation order was canceled on March 31, 2017, except for some areas. Residents are returning to the village little by little, and new elementary and middle school compulsory education schools are being opened.

Kazutaka Sato, the owner of Omachi Okameya, who fell in love with the quality of buckwheat that was newly cultivated in Iitate Village and started offering 100% Iitate-produced soba at his own store. He was the fourth generation of "Okameya", a long-established soba restaurant founded in Taisho 14 that once opened a store in Omachi, Fukushima City and continues to operate along Fukusho Dori in the city.

Sato moved to Tokyo after graduating from high school. After working as a Japanese food maker for 5 years, I gained 4 years and 2 years experience at 2 soba restaurants. I'm a childhood friend of Toshimitsu Abe, the owner of the "Waden Gogoku" shop, who also participates in this "Terrorage Fukushima". I returned home to help open the "Gokutoku" for about two years, and worked for my parents' family "Okameya" for about two years. In September 2017, I fully opened my own store. If I wanted to open a store, I wanted to open it in Omachi, where my family's store originally was. Mr. Sato explains the reason for setting up a store here.

"When I was little, my grandmother grew up saying" you're the one who's going to take over. "On the contrary, my parents said," You can do whatever you want. " Isn't it a place where both the rich and the ordinary people come to eat? Since I was longing for a "town soba restaurant" where everyone gathers, I couldn't think of opening a store other than a soba restaurant. . "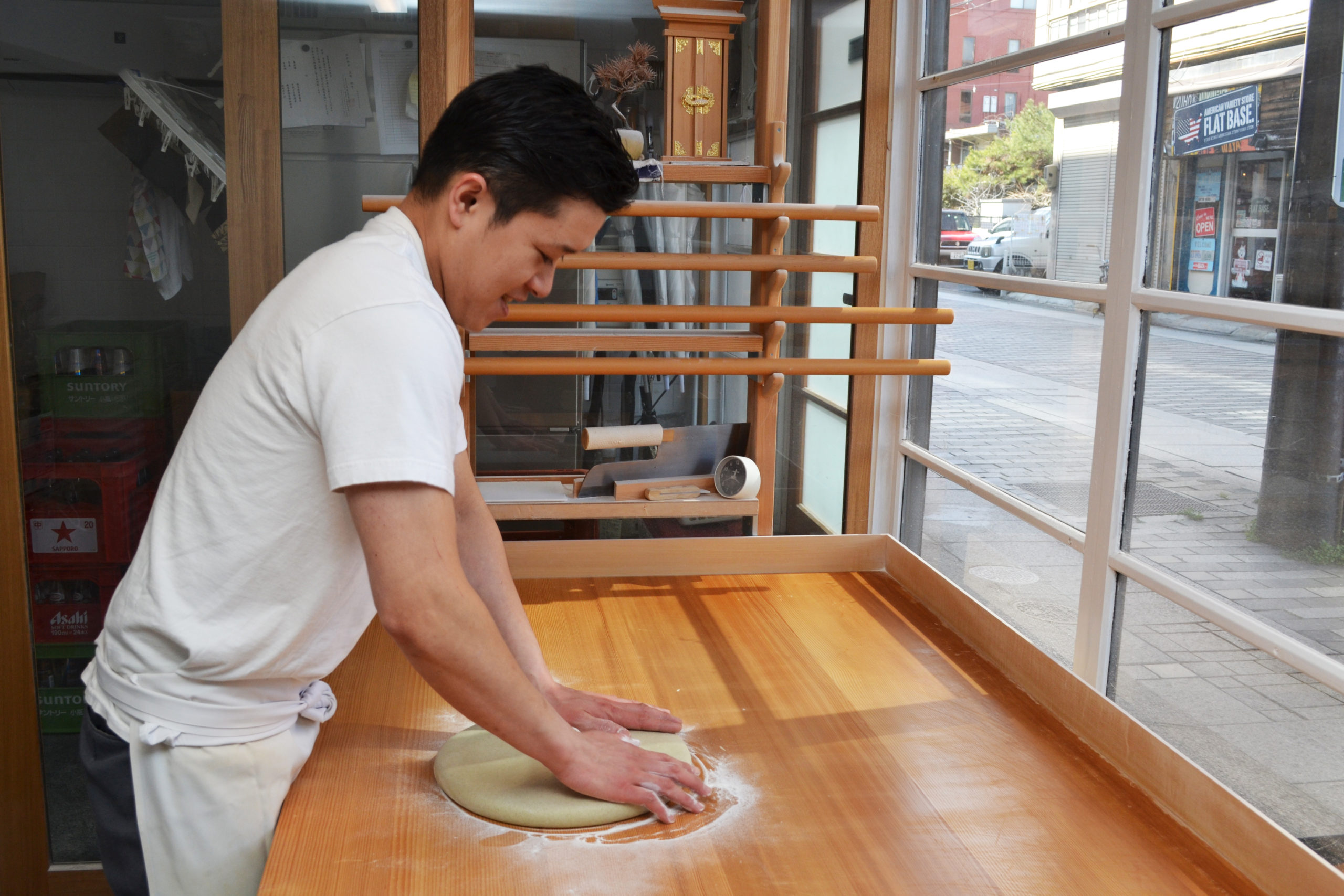 However, there are various styles even if you say "soba" in a bite. Mr. Sato's soba is very different from that of "Okameya".

"Grandpa's day was that wheat was more expensive than soba, so it was said that buckwheat made with more flour would be better, and when wheat becomes cheaper and domestic ingredients for buckwheat become less, 100% buckwheat noodles will be enjoyed. Even with the same soba, it depends on the times. "

The soba provided at Omachi Okameya is a mix called "Sotoichi", which consists of 100% buckwheat flour and 10% tied. The soba-making room at the back of the store is glass-covered so that it can be seen from the outside, and the people passing by can be interesting to watch the hand-made work.

"Because I'm still young, I thought it would be more convincing to eat so that I could see all the steps, so I dared to make the soba noodle room visible from the outside. Some people see their faces every day. However, there are some children who stick to the front of the glass and look to the end.For those people, it would be nice if the way he hit the buckwheat would be part of the view of the town. I would be happy if I could stand here every day and think, "He's doing well today."
My
Terroir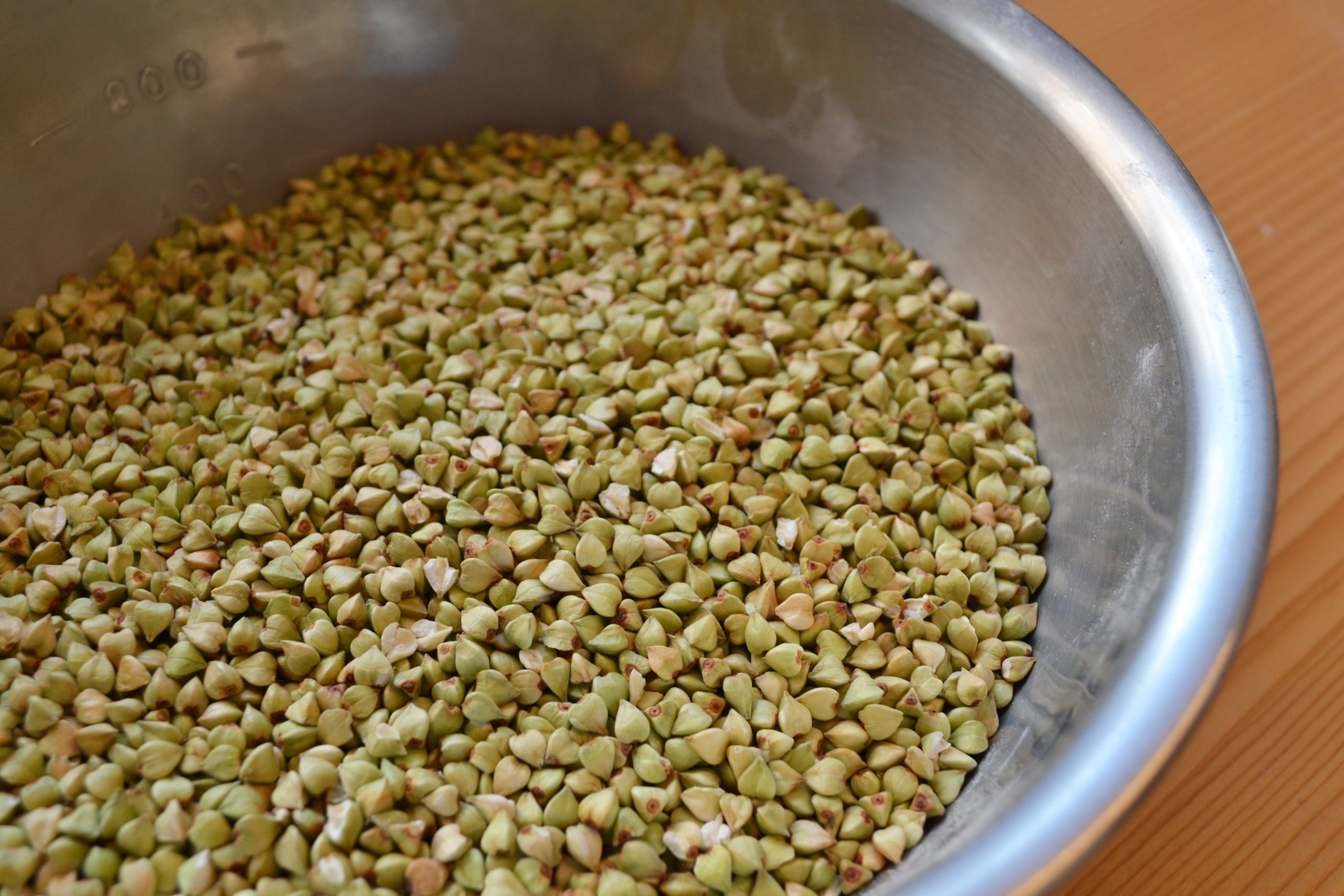 Fruit of "Shinshu Daisoba" from Iitate. This green color of the cuticle is the heart of Mr. Sato's Edo soba.
The side of Iitate that Mr. Sato fell in love with. It is a variety called "Shinshu Daisoba", and as its name suggests, it is characterized by its large, grainy fruits. We purchase the fruit near it in a state called "Marunuki", which is made by removing only the outer black shell.

"Most people think of soba as gray noodles with black grains, but that is the so-called" Sarashina soba ", which is ground with a stone mill. My soba is" Edo soba ". It's called "Maru-nuki" and grinds it into powder, which makes buckwheat flour with the color and flavor of cuticles alive. "

When you mix cold water with buckwheat flour and start kneading, the soba scent immediately fills the soba-making room. Although it is very physical work, Mr. Sato, who is particular about the freshness of the soba, works on this soba every day without fail.

"Soba soybeans lose their color and flavor as soon as they are ground, and they lose their water content. Soba of that day is beaten on that day. By doing so, you can feel the flavor as much as possible. I am.

However, there are shops that dare to lay it down and then put it out for a while, and each shop has its own way of thinking. Which is not the absolute thing, each store confidently puts out soba, and customers who say that it is delicious arrive at each store. I think that's fine. "

It takes about 40 minutes to knead by hand and use Edo soba's unique method of stretching with 3 sticks of different lengths. Beautiful soba with a pale yellow color has finally been completed.
My
Mariage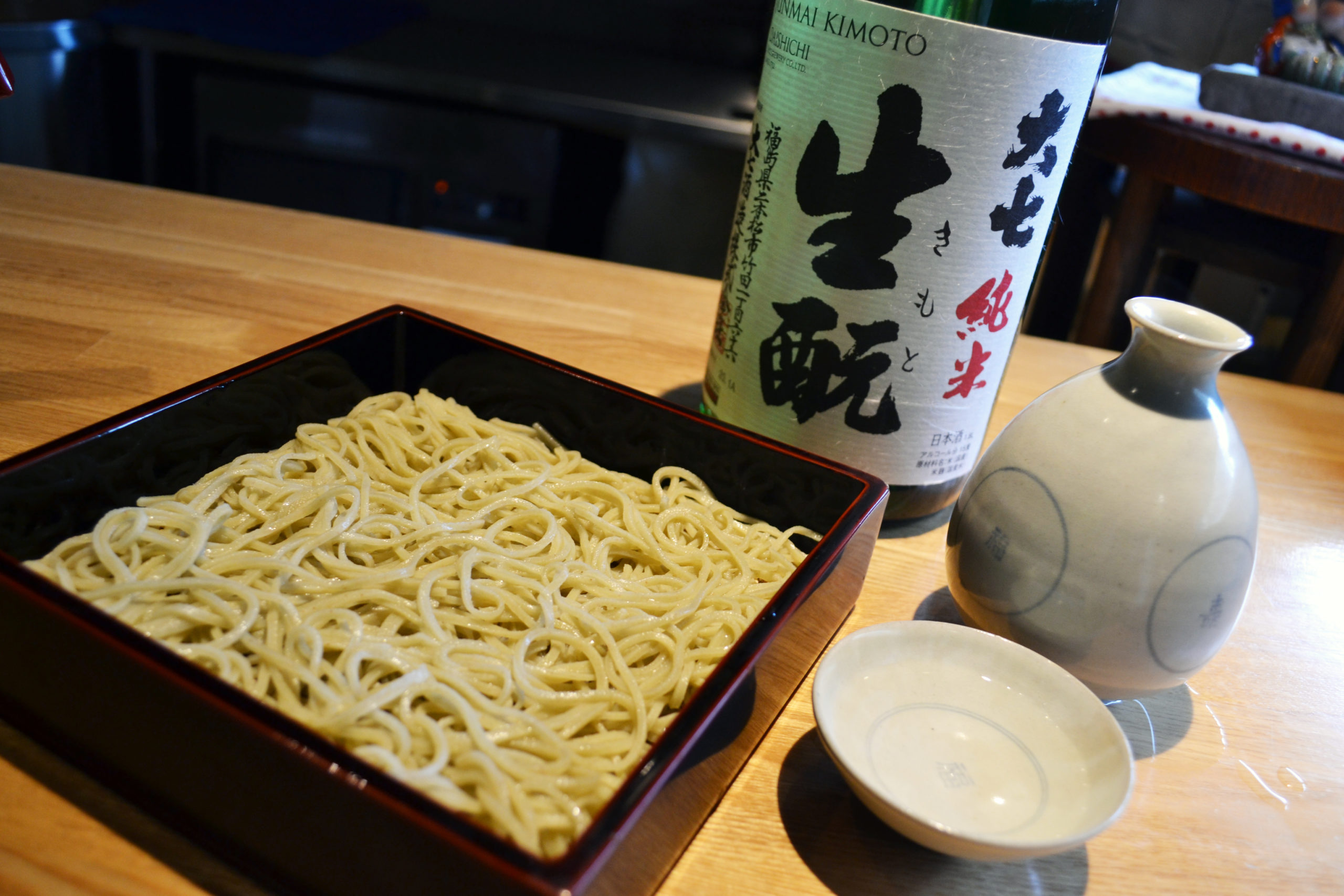 The taste of Edo soba
Sato-san's Edo soba, which was boiled up and served in the colors. It gives off a glossy and elegant beauty. The taste is also refined and has no unpleasant taste, and the scent of buckwheat spreads in the mouth. You can feel the faint corners over your throat, which is a unique feature of Edo soba that cuts noodles into squares of about 1.5 mm. Soba soup is a simple soup made from bonito flakes and mackerel flakes. This inherits the taste that has been passed down for generations as "Okameya."

Matched with this soba is the Daichi Pure Junmai Sake from Nihonmatsu City Daichi Sake Brewery.

"Daishichi is the best sake to use at a soba restaurant. It can be chilled even at room temperature, and you can't do it. I have recommended this since the days of Tokyo. Then, we purchase barrel liquor from Daishichi and have customers enjoy the taste of barrel liquor for one to two months from the end of the year. "

You can eat soba made with Iitate Shinshu Daisoba only in Omachi Okameya outside the prefecture as well as inside the prefecture. Mr. Sato wants to grow this soba into a soba that makes you want to come to eat. The day may come when Iitate village will be known as a soba production center comparable to Aizu.
Mr. Sato, who also has experience training Japanese food. The charm of this restaurant is that you can enjoy the "liquor appetizer" that makes foodies growl. Seasonal dishes are written and arranged on wooden strips. The most popular dish is the Aizu specialty, horse sashimi. The horse sashimi that arrives from Aizubange Town is vacuumed one by one to the store. By doing so, we were able to provide fresh horse sashimi at any time. Aizu's standard sashimi is to eat with garlic miso, but Sato-san, who liked Leva sashimi, recommends sesame oil and salt. Then, add the same Hizuki Sake Brewery "Furukuro Special Pure Rice Unfiltered Raw Hara Sake" from Aizubange Town.

It is said that such a menu has become popular, and recently, not only soba restaurants, but also local regular customers who use the shop like an izakaya have become more popular. While watching Sato-san's work at the counter in the open kitchen, you can enjoy the marriage of the season's side dishes and Fukushima's sake, and pour the soba noodles struck with all your heart into it.

"Since I was training in Tokyo, I was working while thinking that I would return to my hometown and do business, and I would definitely return to Fukushima. There were times when I was worried about my business in Fukushima after the earthquake. However, every time I think about the locals, the faces of people I know and care for, and the faces of various people come to my mind, and their presence pushes my back. It was a matter of course for me. "

Mr. Sato who has a deep knowledge of music. While the soba shop is on track, next time we are opening a new music bar on the second floor of the store to create a new crowd. A "town soba shop" that is loved by people who have long been dreamed of and for generations. Beyond that frame, Omachi Okameya and Sato-san's existence is becoming an indispensable part of the future of Fukushima.
---
Data
Omachi Okameya
Address:9-16 Omachi, Fukushima City, Fukushima Prefecture
Tel:024-503-9435
Open:16: 00-22: 00 (Last order 21:30)
Closed:Tuesday
Average Cost:From 3,000 yen