The breath of Okuaizu beef and Aung, a sake and local ingredient, with the pride of "Koriyama's raw chef"
[Japanese restaurant] Aung
Naka-dori・Koriyama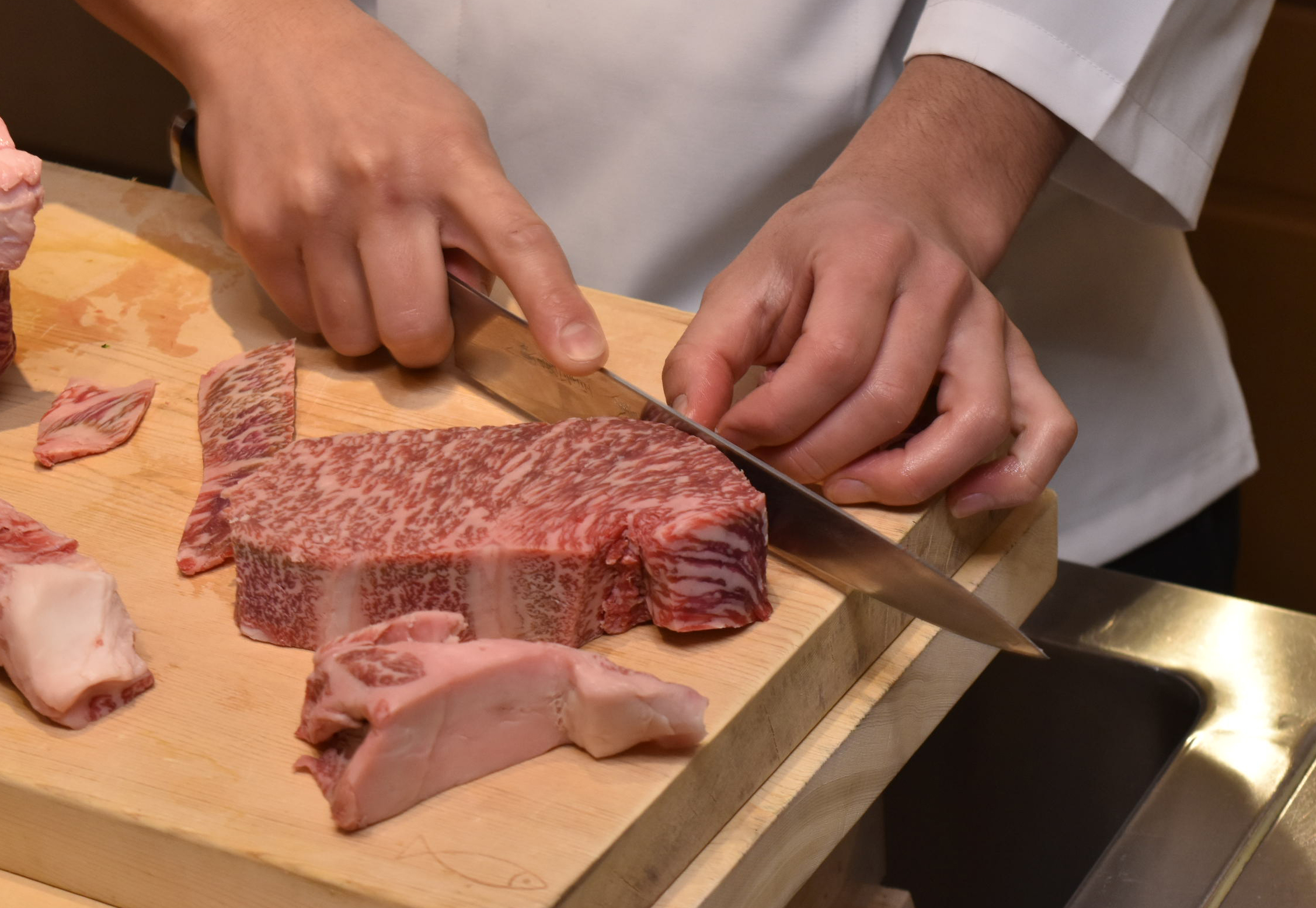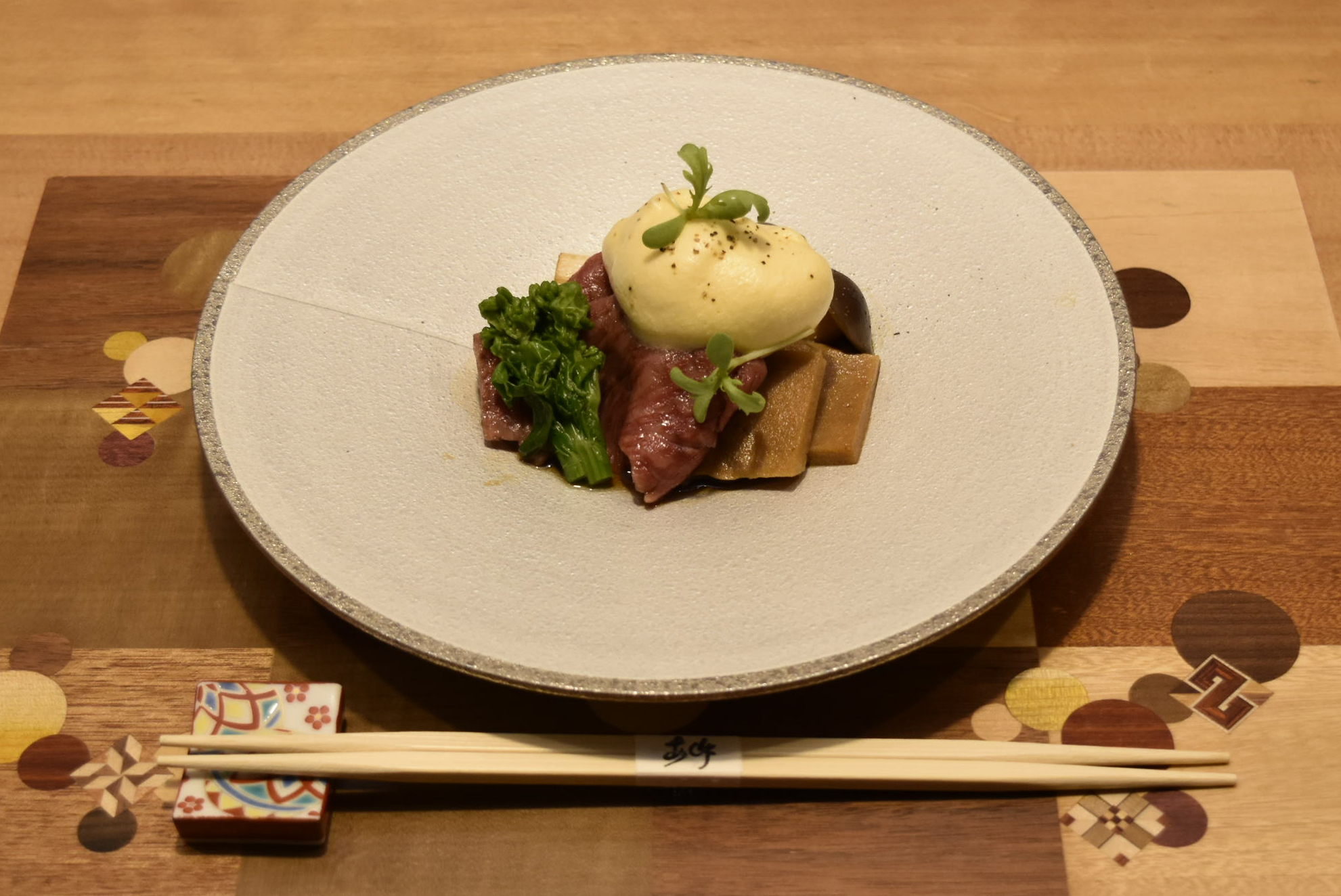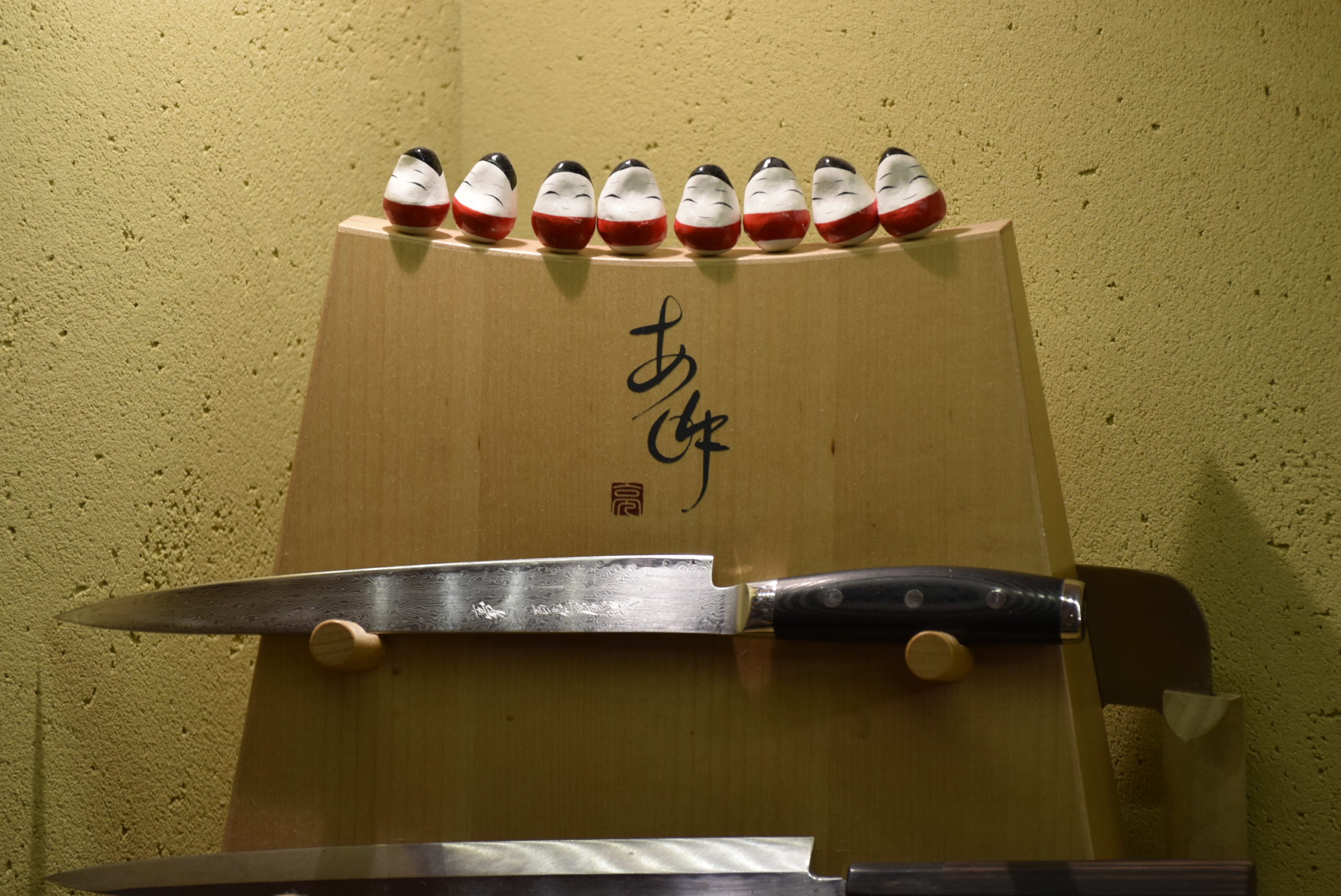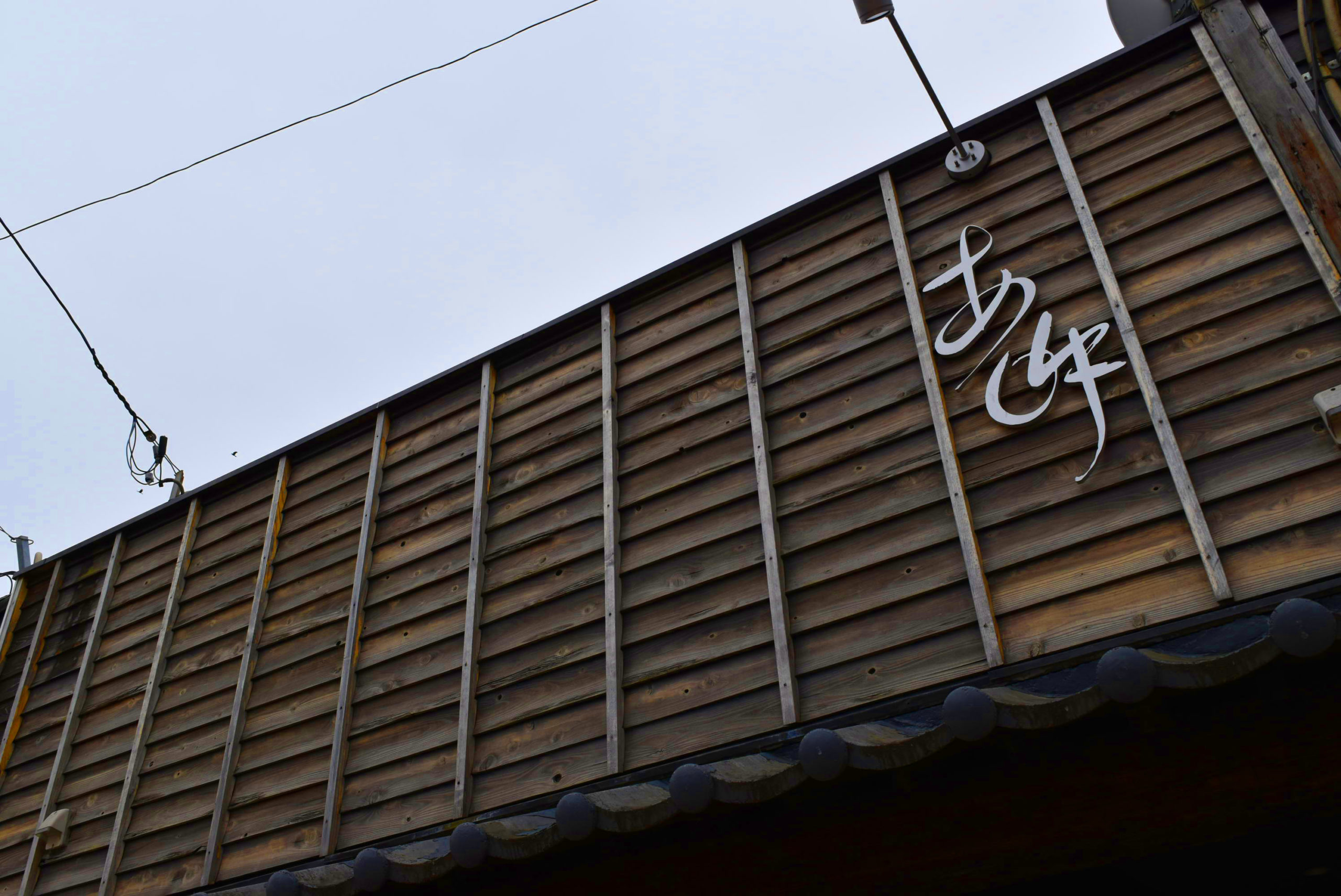 The small store is about 15 tsubo. You can enjoy the finest Okuaizu beef in a calm Japanese atmosphere.
When you think of Aizu's food, you can think of local dishes such as "Kozuyu" and "Nishino Sansho-zuke", but it is also a region of high-quality branded meat in Fukushima Prefecture, including horse sashimi, Aizu chicken, and Aizu beef. . Among the branded meat, "Okuaizu beef" is attracting attention because of its particularly sweet fat.

Omachi, Koriyama City. There is a Japanese beef restaurant "Aung" that looks like a hideaway that sticks to the Okuaizu beef, just inside the alley from the old highway. The owner, Ryota Hayashi, was born and raised in Koriyama. After graduating from high school, I trained at a long-established restaurant in Koriyama for about 10 years, and started this shop in 2013.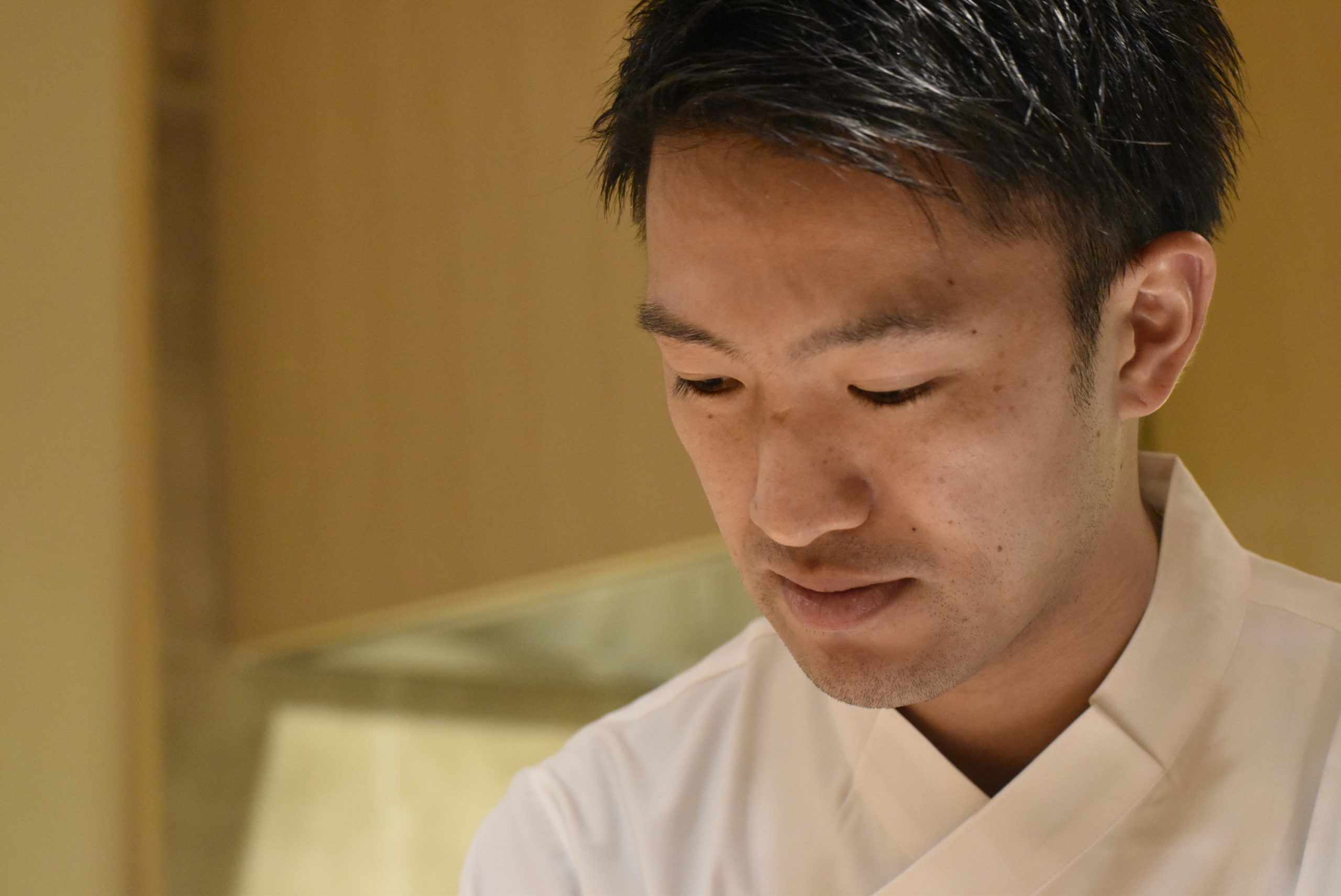 "By the time I entered high school, I had already decided to become a chef. My dad has a market-related job, and I do cherry blossoms in the spring and potatoes in the autumn with my friends. My friends are also marketers and producers, so I bring in selected ingredients and cook them on the spot, and eat them, but since the ingredients are all good, even simple seasoning is really delicious. It was a great experience for me when I was a kid, and the people who gathered there were also something I admired.

Mr. Hayashi says that in the course offered at the store, we are trying to make menus that will satisfy repeat customers, such as mixing Okuaizu beef with seasonal vegetables and sashimi. He says that the creation of new dishes can increase your curiosity. That positive passion for cooking is also firmly reflected in the store name "Aung".

"I think that all cooking work comes from" Aung's breath. "Cooking and technology, food and drink, food and service, Japanese beef and vegetables, Japanese beef and fish. I decided that I was satisfied with it. I decided the shop name from that thought. The word "吽" is a beef in the mouth, so it is perfect for eating beef.

Also, because it is a word that starts with "a" and ends with "n", I think it is a name that leads to the fact that everything has order and that cows have life. "

Of course, the food chosen by Mr. Hayashi is "Okuaizu beef."
My
Terroir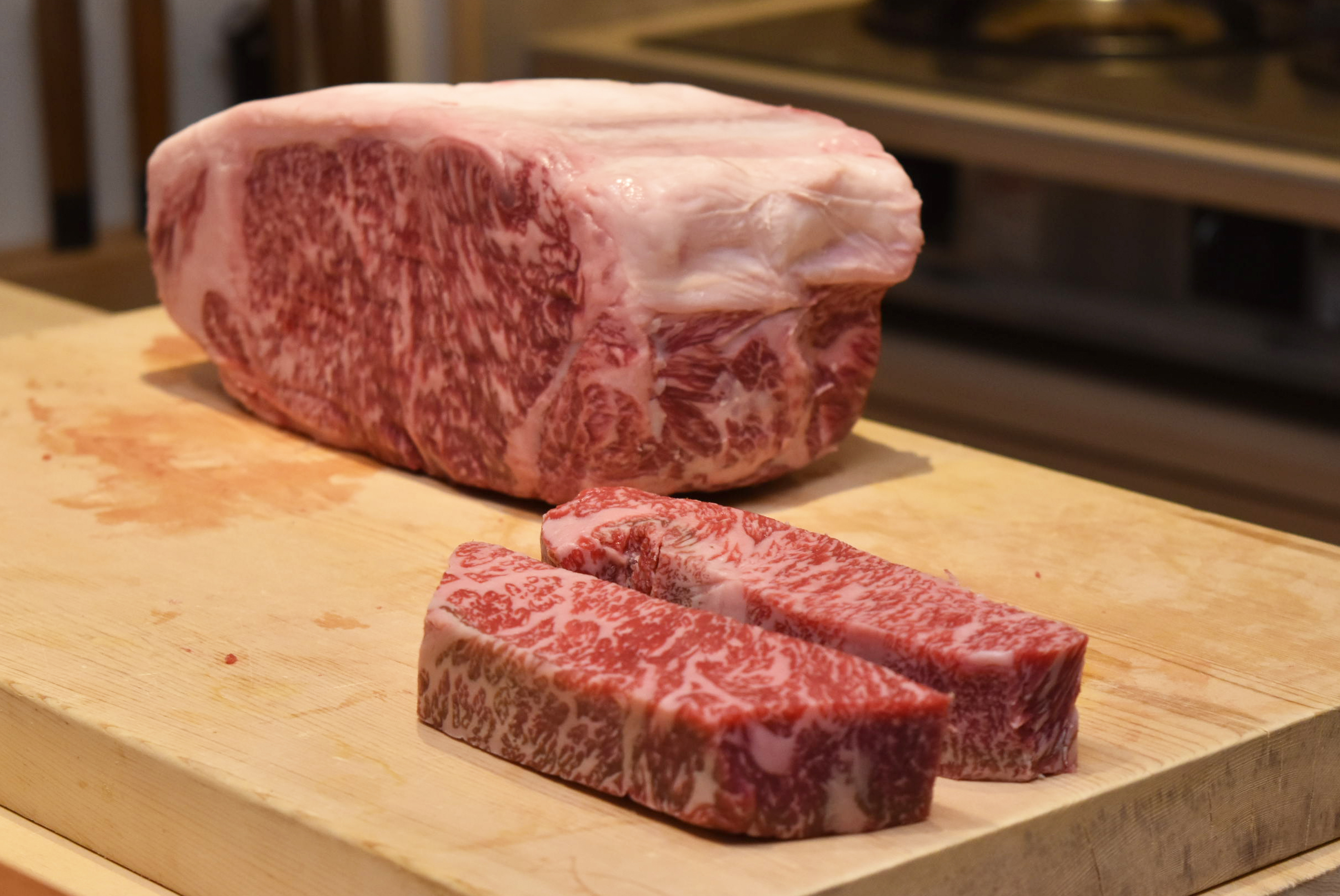 The sirloin of Okuaizu beef with a beautiful sardine looks beautiful
Hayashi says he used to use Sendai and Yonezawa beef in addition to Fukushima beef. In the spring of 2017, I met Hirohiro Tabe of Aizusakashita Town, Tabe Livestock, who raises Okuaizu beef at an event held with a fellow chef, and that consciousness changed.

"Okuaizu beef fat has a lower melting point than ordinary beef, and when you put it in your mouth, you will feel that it melts and is smooth. It was different, but Mr. Tabe was feeding while thinking carefully about it, and that was clearly reflected in the quality of fat. Besides, it was not just to make meat, but to interact with cows with a feeling That thought was also in line with my own thought.I used to use meat that could see the producer's face, but since I met Mr. Tabe, I have been using Mr. Tabe's Okuaizu beef for a long time. I am using it. "
My
Mariage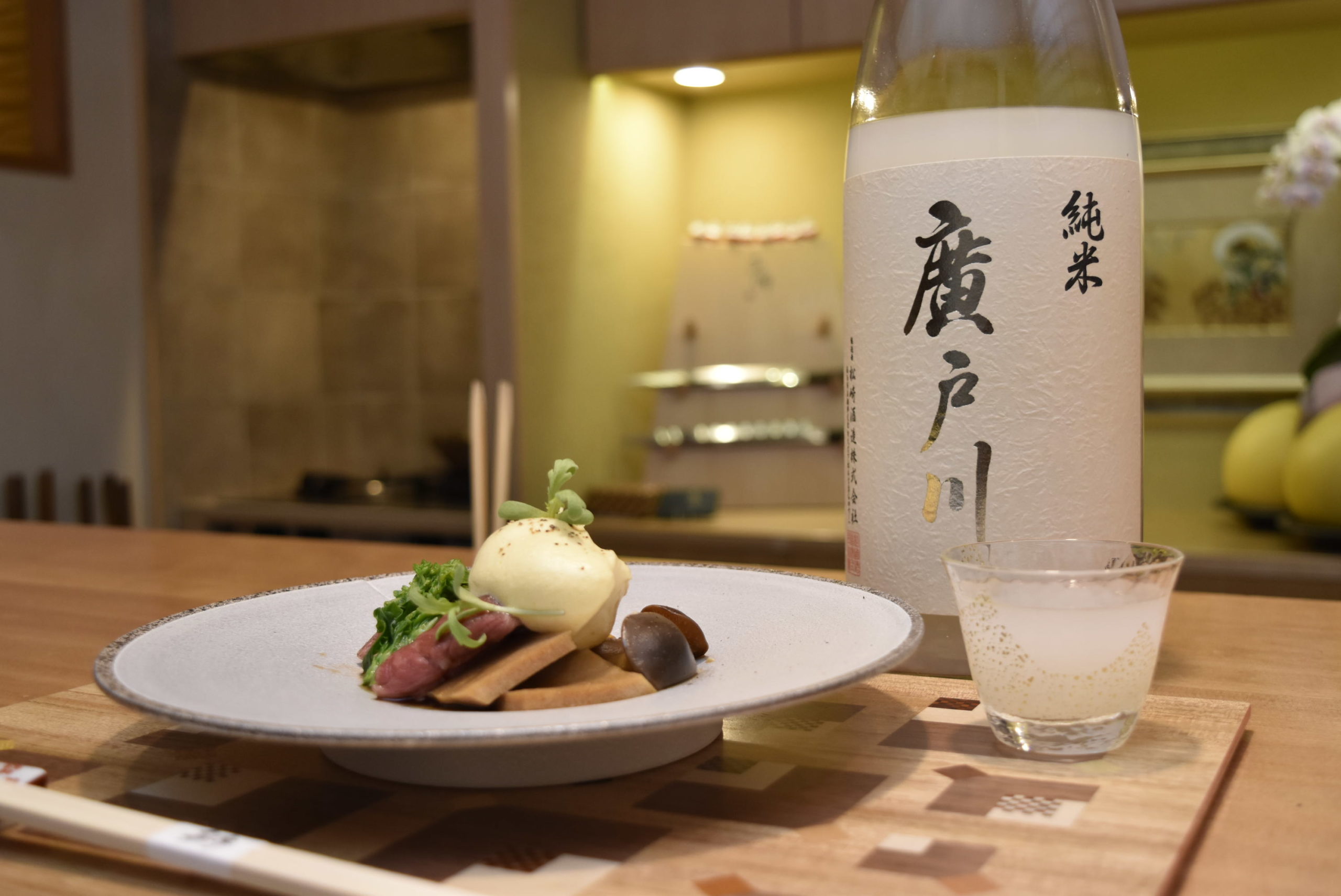 Sirloin and sukiyaki made with local ingredients
Frozen tofu and onions from Sukagawa, which are indispensable for winter food in Fukushima, are pre-boiled and the Okuaizu beef is quickly passed through. A meringue egg was placed on the sukiyaki pot along with the sprout of chrysanthemum and the rape blossoms. The liquor to be combined is "Hirotogawa Junmai Nigori" by Tenzaki Village and Matsuzaki Sake Brewery. The umami wraps up the sweetness of sukiyaki and flows it out just right.

"For those who feel that sukiyaki in a pan is a little heavy, we arranged it so that it can be eaten as it is in one plate. Green onions and frozen tofu are boiled in advance, but sirloin is not overcooked and enjoys the original taste We use all the local ingredients, including rape blossoms and chrysanthemums. "
Sirloin steak is the real pleasure of beef. In recent years, it is said that the trend of food has shifted to fillet meat, which is less fat and can be eaten easily, but Okuaizu beef can also eat sirloin steak and is a popular dish. This sirloin steak is served with the Ringo Madness cider from Fukushima City Fruit Farm Kato.

"Mr. Tabe's meat is not heavy in fat. It has the sweetness of fat and is light. This steak has no guilt that" I have eaten fat "and is satisfied and dry. It should have a lingering finish.

The sauce is original, and it is made by adding garlic soy sauce to red wine and balsamic, with kumquat chopped in the winter, and in the early spring to give a Japanese atmosphere with a Japanese butterbur, or add something to feel the season. . The vegetables that came along were turnip, cauliflower, and microleaf. These are vegetables from Suzuki Farm in Koriyama. "

While there are many chefs who have gained experience in Tokyo and Kyoto, as well as overseas, Mr. Hayashi has gained most of his training as a chef locally. For that reason, he says he has the pride that he has been involved with local ingredients for a long time. With the pride of being a "Koriyama's chef's native chef," he makes a tremendous Koriyama and Fukushima meal. That passion was contained in his dishes.

"We have a duty to convey the feelings of those people, because it is our responsibility to save and kill the local ingredients, and because the producers cook the dishes with them. With that in mind, I face the food. "
---
Data
Aung
Address:Koriyama, Fukushima Prefecture Omachi 1-2-9
Tel:024-954-7880
Open:Mon-Sat 11:30 - 13: 17:00: 30 to 23:00
Closed:Sundays, public holidays